In This Article
Loading table of contents …
Here's how each member of the 10xT Team would use a 5 50k Marriott Free Night Certificates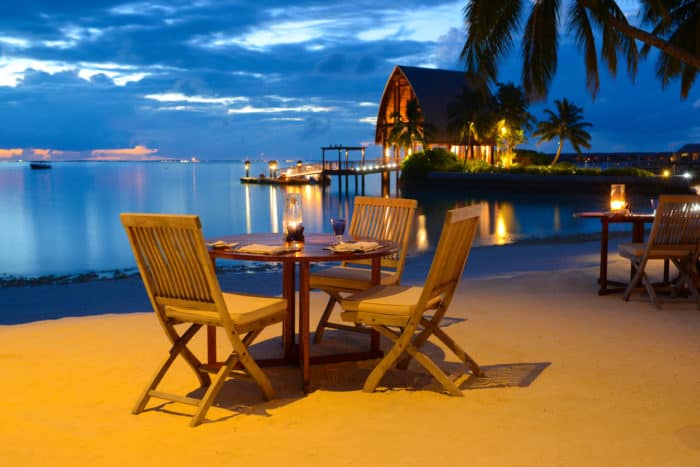 Note: Some of the offers mentioned below may have changed or are no longer be available. You can view current offers here.
Chase has been shaking things up with new sign-up bonuses and bonus categories on several of the cards it offers. Among these, the new Marriott Bonvoy Boundless Credit Card sign-up bonus is particularly compelling.
While the previous sign-up bonus of 100,000 points was solid, the new sign-up bonus offers five free night certificates after you spend $5,000 in the first three months with the card. These free night certs can be used at hotels that require up to 50,000 Marriott points per night.
For context, Marriott has off-peak, standard, and peak award rates. A Category 6 property requires 50,000 points per night on standard dates while you can book a Category 7 for 50,000 points on off-peak dates. So, if you really want to get the most out of these five free night certificates, you'll want to keep an eye out for Category 6 and 7 options.
Now, let's see how the 10xTravel team would use these free nights!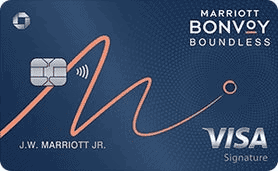 Travis Cormier

When I learned about the new Marriott Bonvoy Boundless credit card, I knew exactly where I'd use it. If you know me, you probably know my answer already: The Maldives.
I know, what a shocker! The new sign-up bonus is so good for Maldives travel that I plan on signing up for it myself for this very purpose. This is one of those times with "How I'd use it" becomes "how I will use it."
Marriott has been expanding its footprint in the Maldives over the past few years. We've seen hotels like The St. Regis and the JW Marriott Maldives open up, and a Ritz Carlton is in the works. While all these are Category 8 hotels requiring 70,000 to 100,000 points per night, there is one Marriott hotel in the Maldives that is a Category 7 and has caught my eye: The Westin Maldives.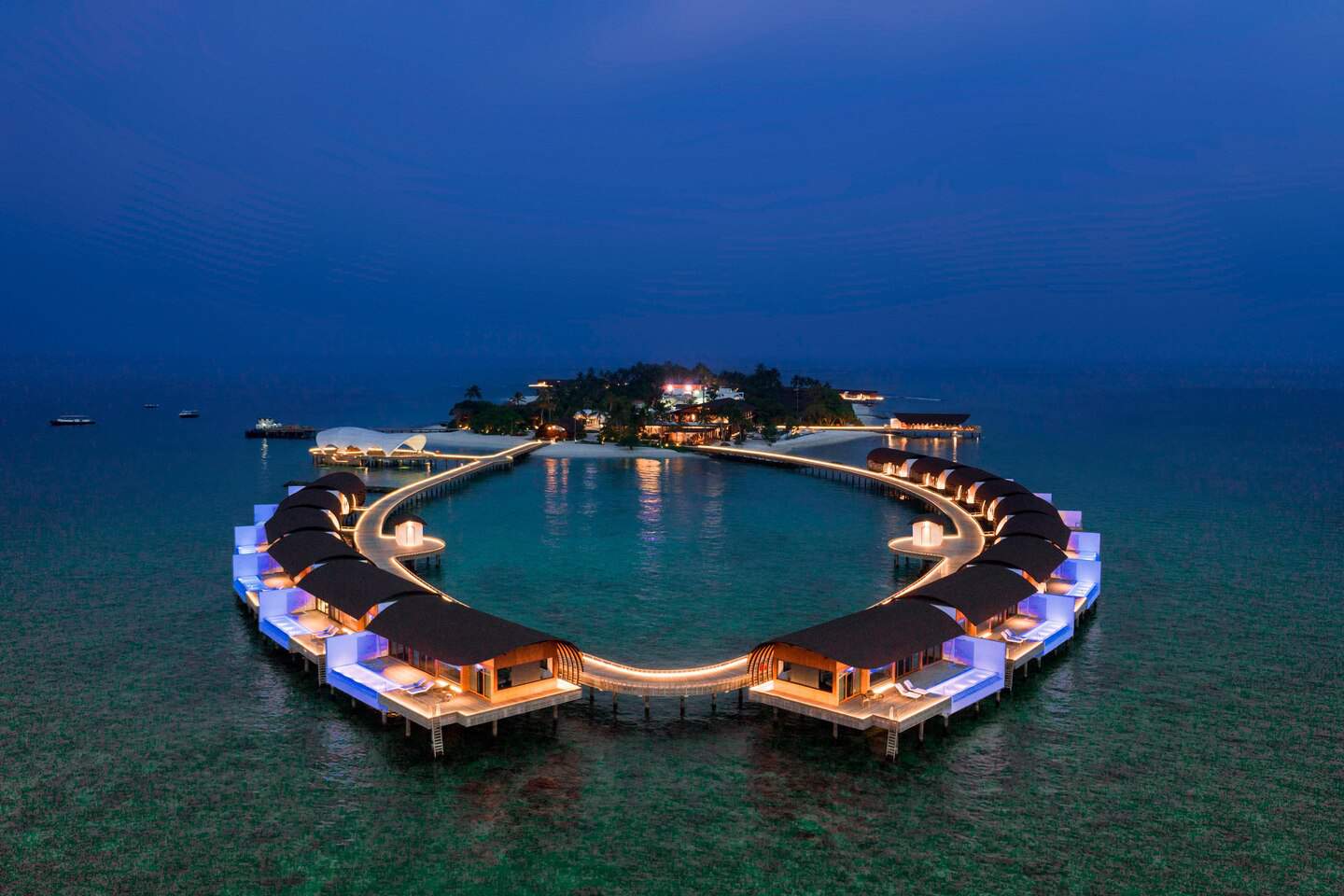 The Westin Maldives is a Category 7, so it requires only 50,000 points on off-peak dates. While off-peak dates aren't set based on certain dates and can fluctuate, I've found a decent amount of off-peak availability in the May through July time frame. This is the "low-season" in the Maldives, so you're likely to find consecutive off-peak travel dates during this time.
WIth the new Marriott Bonvoy Boundless credit card sign up bonus, if you can find five consecutive off-peak nights, you can potentially have a five-night visit to the Maldives with just one credit card sign-up bonus.
Most Maldives hotels price at the top of their respective award charts, and while the Westin is no exception, being able to take advantage of off-peak dates can make this bonus extremely valuable. There's really not another hotel that you can stay at in the Maldives for just one credit card sign-up bonus.
While you'll still have to figure out flights to the Maldives, which can be a long journey, you know you've got your hotel stay covered with the Marriott Boundless credit card.
Matt Brown

I knew exactly where I was going to use this bonus as soon as I saw it – Mauna Kea Beach Hotel, an Autograph Collection hotel on the Big Island, Hawaii.
We stayed at this hotel in May 2019, and it was incredible. It was just a Category 6 property then, and was bookable pretty regularly for 50,000 points per night. But it was upgraded in 2019 to a Category 7, meaning that the new Standard pricing for an award night is 60,000 points. This makes award space much harder to find, and makes it just out of reach of the 50,000 point per night free night award certificates.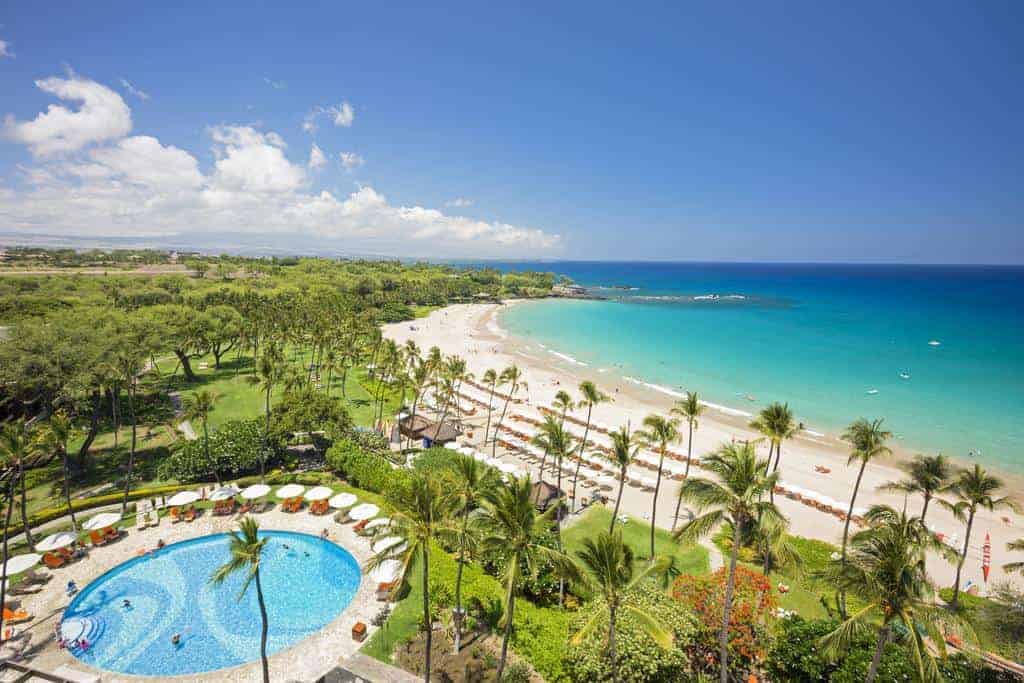 I've run searches for award availability here before pretty regularly as we are eager to get back to this incredible property. While the occasional off-peak night at 50,000 points is available, they're usually a single night or two here and there, not an extended range of availability. Who wants to go to Hawaii from the East Coast for just three nights? Not me.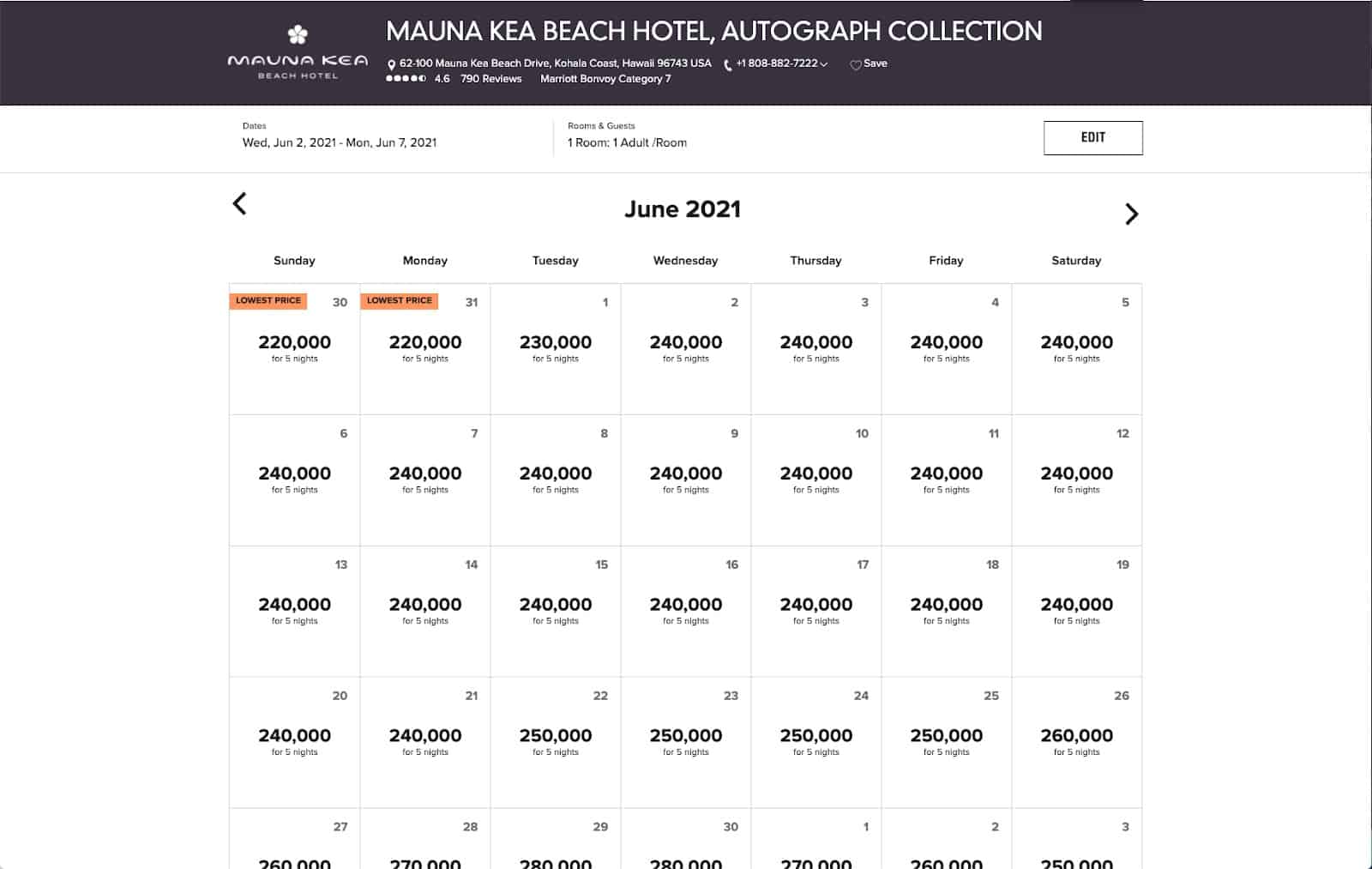 Given the effect of COVID-19 and the fact that Hawaii has been locked down for the last few months, I find it not surprising to see that this has caused all kinds of off-peak award availability at not only Mauna Kea, but also at several Hawaii properties throughout the upcoming 12 months.
So I'm speculatively booking a seven-night stay here at the Mauna Kea again for next June. I have a couple of free night award certificates that can be used on nights that require up to 50,000 each expiring in June that, when combined with the five free nights that I will earn from opening the Marriott Boundless Card, will be good for up to a week's stay at Mauna Kea Beach Hotel.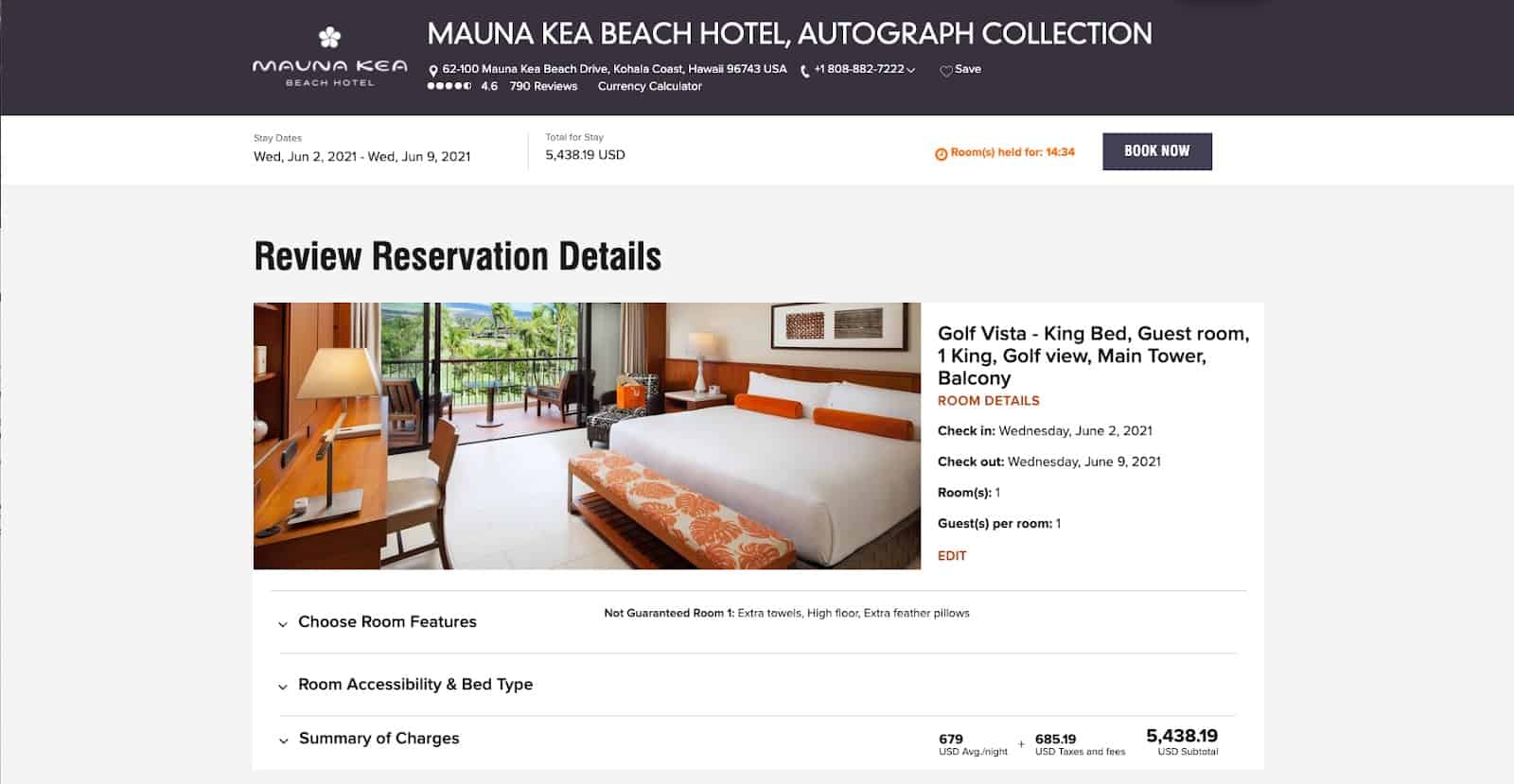 With a one-week stay here totaling up to $5,438.19 if I were to pay cash, the redemption on the sign-up bonus will be greater than the minimum spends requirement.  That's just nuts and goes to show you just how valuable this signup bonus can be.
Carly Helfand

Ask me 10 times which property is at the top of my Marriott wish list, and my answer will probably be different each time. I'm always operating with a bit of recency bias; the hotel at the top of the list is probably just the last one I researched for an imaginary stay (what, do you not do that as a hobby?).
In this case, that's the St. Regis Mauritius. You may or may not see a story up here soon in which I outline how to get to Mauritius using Flying Blue miles, and while writing that up last week, I did a personal deep-dive on the island's points hotel options.
The St. Regis is far and away my pick in Mauritius. It's surrounded by a lagoon overlooking the Indian Ocean, and it sits against a mountainous backdrop on the island's Le Morne Peninsula. The property itself looks stunning, too, and St. Regis is a brand known for excellent service.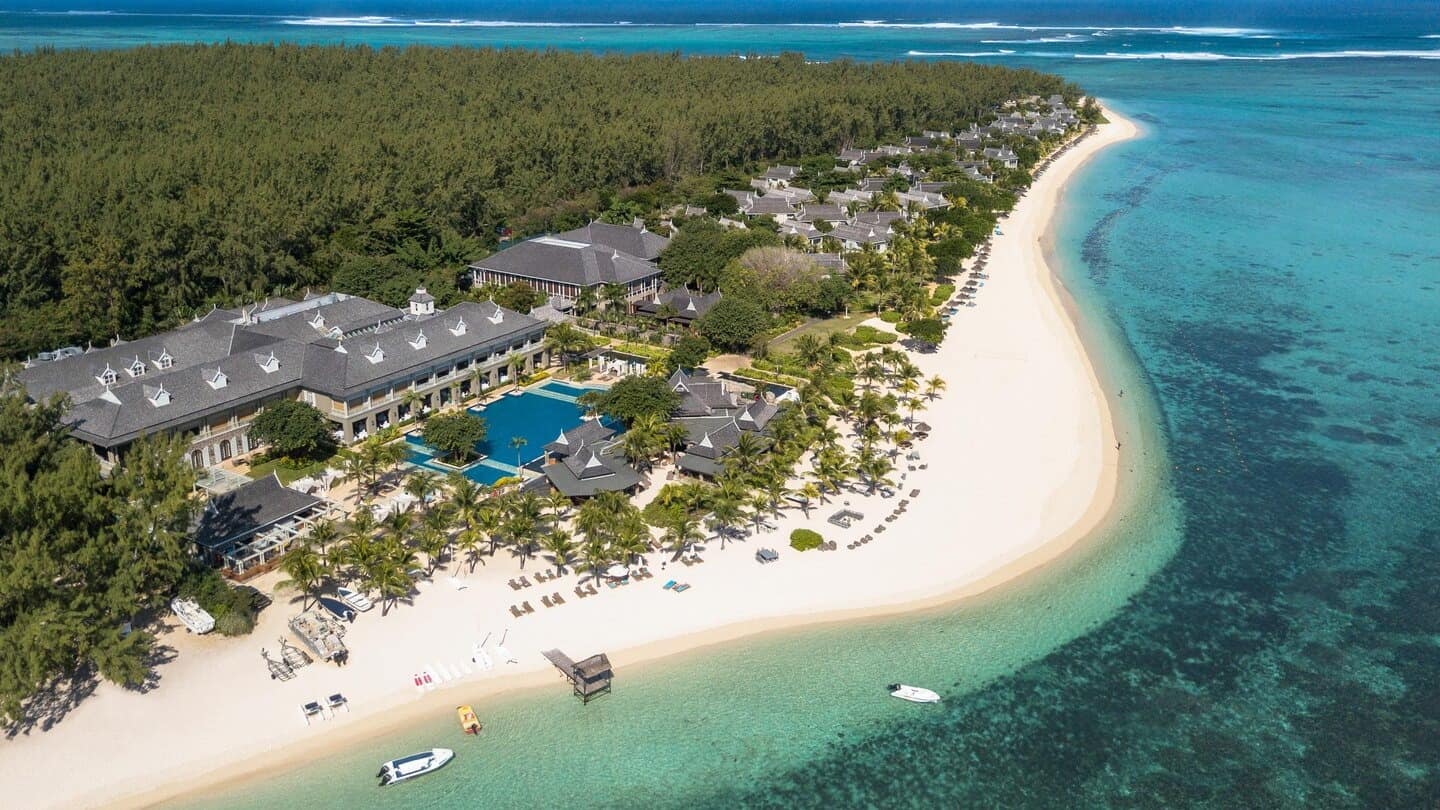 The St. Regis Mauritius is a Category 7 property, and as Travis and Matt already mentioned, that means it goes for 50,000 points per night (rather than the standard 60,000) only during off-peak times. Luckily, Mauritius' low season is still lovely weather-wise, with nice beach temperatures and lower humidity. I had no problem finding availability in May for a five-night stay at the 50,000 rate.
Of course, as always, you should check out the cash price before booking. For the dates I checked, the room rate was $475.30 per night, so you wouldn't be getting as much value for your certificates as you would be in the scenarios Travis and Matt went over. Still, $2,376.50 plus taxes and fees for a hotel stay is too rich for my blood, and I'd be happy to fork over the certificates to spend five nights in this slice of paradise.
(Don't forget that if you have Marriott elite status, there's always the possibility for upgrades, too. While 50,000 points would book me into a junior suite with a king bed, I'd cross my fingers that my Platinum status with Marriott could get me into something just a little bit fancier!)
Anna Zaks

I see that a few of my writer friends are heading to beautiful tropical locales with their newly minted five free nights, but I am going to take a different approach – I am going to one of my favorite cities – London! It's hard to believe I haven't been to London since 2005 and, in fact, I had tentative plans to go this fall, but alas, life had other plans.
As soon as we are allowed to travel to Europe again, London will definitely be on the top of my list. There are quite a few Category 6 and 7 properties in London. To maximize the value of the 50,000-point certificates, I can book a Category 6 hotel at standard rates or Category 7 hotel at off-peak rates.
Looking at the redemption rates during different times of year, I have a few contenders. I had to play with dates quite a bit to find what I want, but a couple of properties caught my eye. The cash prices at these London hotels range from $400 to $500, so by using five free nights, courtesy of the Marriott Boundless card, I could save a couple thousand dollars.
W London, a Category 7 hotel, looks like a really cool property. Located in the heart of Soho, the location is perfect for catching a play at the West End and for being in the center of things.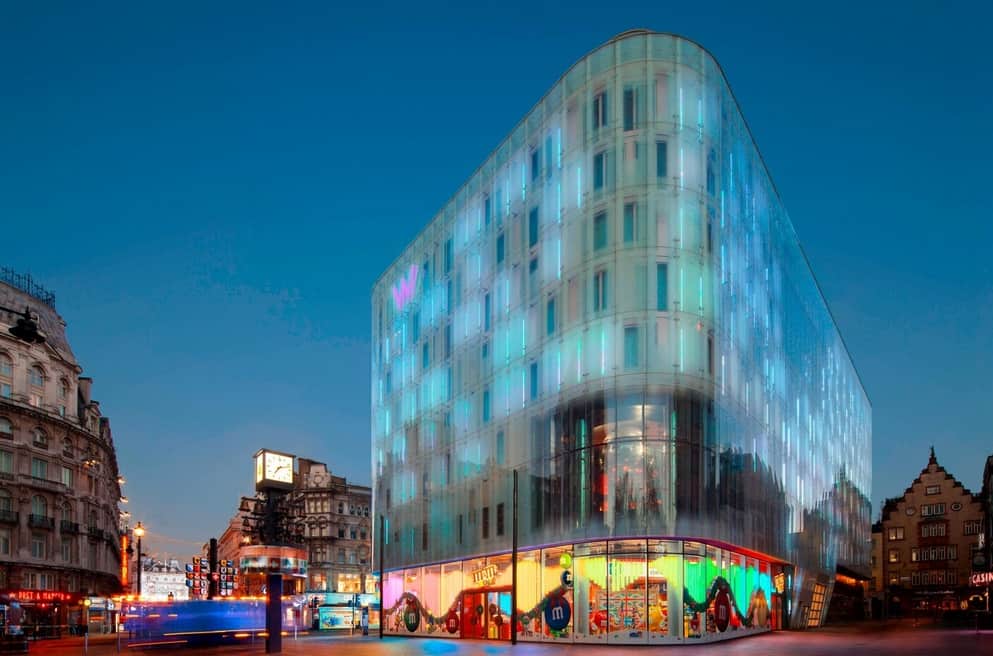 St. Pancras Renaissance is another great choice. The hotel is a Category 6 property and is adjacent to St. Pancras train station. This is a historic beauty, the sophisticated grand dame of hotels, and is an excellent representation of Victorian era architecture.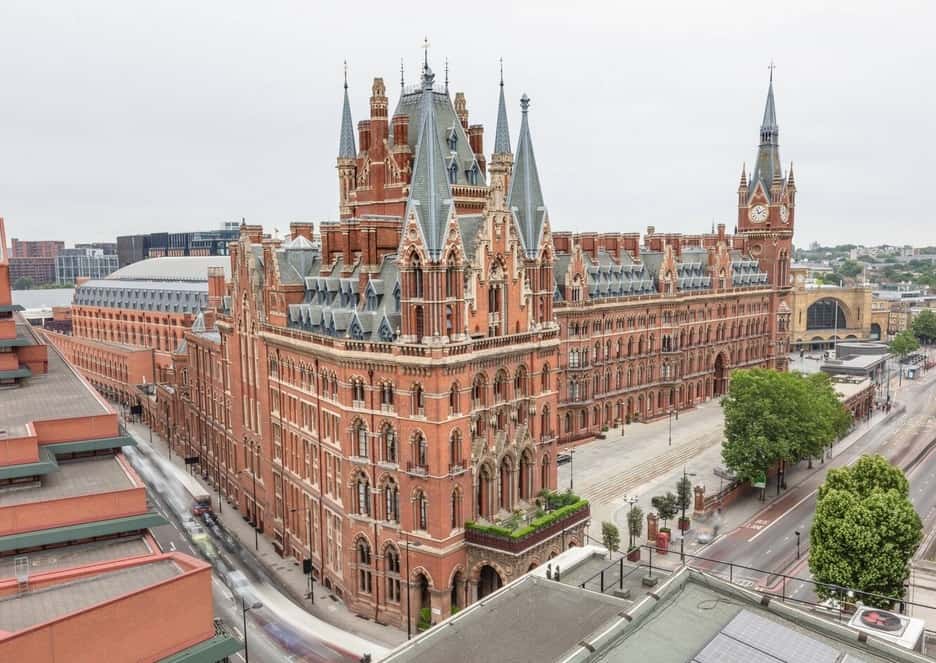 It's going to be hard to choose with all these great options, with each hotel offering a distinctly different experience. But maybe I don't have to choose, as these are five separate certificates that don't have to be used on multiple stays. I could easily split my stay between two of these and experience different areas of London.
As soon as we can travel to Europe again, you know where to find me!
Anya Kartashova

So far, we have nice suggestions for hotels in Asia, Hawaii, Africa and Europe in the mix, so let's go ahead and use our welcome offer on a five-night stay in the Caribbean.
I'm a sucker for a beach, and I just can't pass up an opportunity to go to a tropical destination. I've never been to Puerto Rico, and there are quite a few properties out there that qualify for the 50,000-point-per-night redemption.
For example, La Concha Renaissance San Juan Resort is a Category 6 hotel, which means that I can book an off-peak night for 40,000 Marriott Bonvoy points or a standard night for 50,000 points.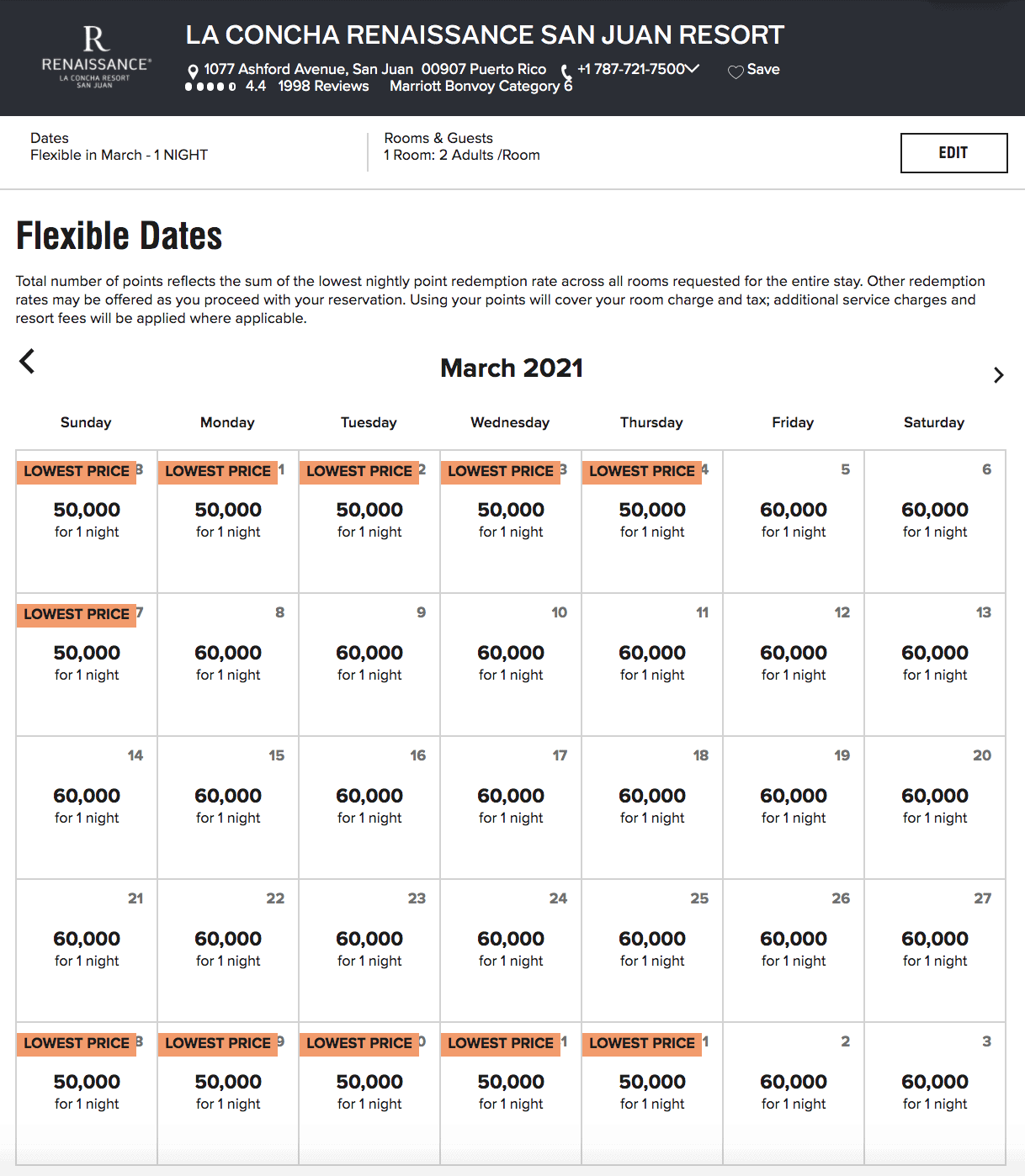 A quick search shows clusters of five nights in a row at standard rates in March. If I were to pay cash instead of points, a five-night stay here would cost about $1,200 with taxes and fees, which isn't an amount I'm comfortable spending willy-nilly. However, redeeming points is a different story.
Another Puerto Rico property that caught my eye is San Juan Marriott Resort & Stellaris Casino. It's also a Category 6 Marriott hotel with plenty of nights listed at 50,000 points each in April.
A five-night stay at this property would cost $2,300, and it's a nice use of the welcome bonus that comes with the Marriott Bonvoy Boundless Card.
I also recently reached Marriott Platinum elite status and would not so secretly hope for an upgrade upon arrival and stay in a better-than-standard room.
Final Thoughts on the Marriott
Clearly, the 10xTravel team is looking for some beach time. Considering the options you have in the Maldives, Hawaii, Mauritius, and the Caribbean, that's more than understandable. At this point, I think many of us could use some time to relax on a beach.
Now, while island life can be great, don't forget about how valuable these free night certificates can be in places like London. Some cities are infamous for their expensive hotels and London is exactly that kind of place. With five free night certs to burn, you can make a trip like this much more affordable.
These certs don't have to be used on one stay either. So, if you want to hop around a region for a bit, you could use them strategically when cash rates are steep in a city you're visiting.
The possibilities are seemingly endless. You just have to decide where you want to go!
How would you use five free Marriott nights?
New to the world of points and miles? The Chase Sapphire Preferred is the best card to start with. With a bonus of 60,000 points after $4,000 spend in the first 3 months and 2x points on dining and travel, this card truly cannot be beat!
Learn More