Note: Some of the offers mentioned below may have changed or are no longer be available. You can view current offers here.
For some reason, it seems we're predisposed to remembering unpleasant experiences — especially customer service mishaps. Maybe its just human nature and there's not much we can do about it. Whatever the reason, we think it's important to let airlines and hotels know when we have wonderful experiences.
With that in mind, the 10xTravel team members wanted to share their favorite hotel experiences with you. As you might expect, you'll definitely see some familiar hotel brands such as JW Marriott, Conrad, and Park Hyatt, but you might be surprised by a couple of the others.
Take a trip down memory lane with us as we think back to some fond hotel memories.
Anna Zaks
I've had lots of great hotel stays thanks to points and miles. The Park Hyatt Sydney, JW Marriott Phu Quoc Emerald Bay Resort & Spa, JW Marriott Dongdaemun Square Seoul – were all amazing. My recent favorite was actually a non-chain hotel that I booked with Ultimate Rewards points through the Chase travel portal – The Thousand Kyoto.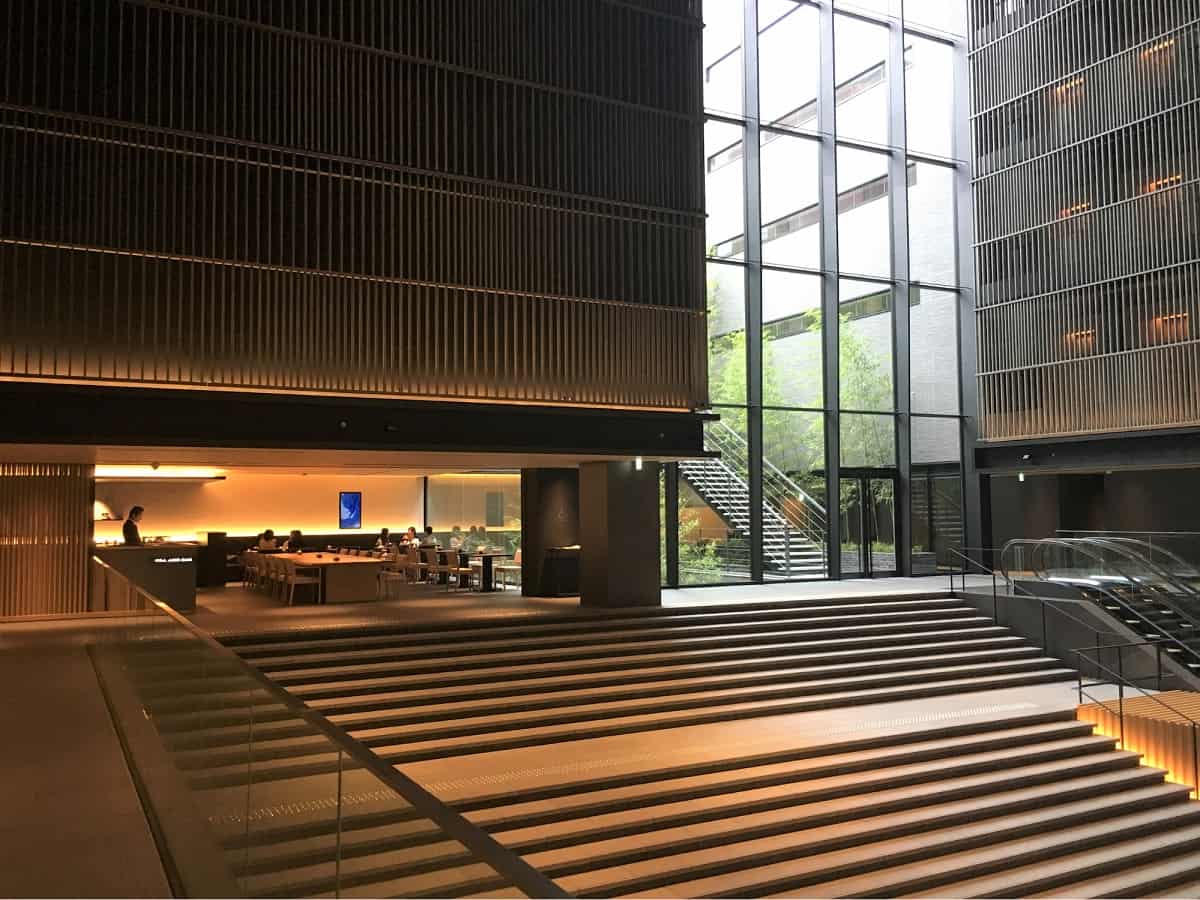 Ultimate Rewards points are my favorite "currency" because of their versatility. My husband has the Chase Sapphire Reserve card and we can redeem the points at 1.5c. When looking for a place to stay in Kyoto, I didn't see any chain hotels that weren't outrageously expensive in points AND were conveniently located. The Thousand Kyoto, on the other hand, fit the bill on all counts.
Sleep quality is the most important criterion when I am researching hotels. I am happy to report, I've never had a better sleep at a hotel than at The Thousand Kyoto. When we stayed there, the hotel was just open a couple of months and everything was brand new. And the beds were oh so heavenly! The mattress, pillows and linens, everything was of superb quality.
We've all heard about Japanese toilets. But let me tell you, Japanese excel at everything that has to do with the bathroom. The toilet was fully automated, of course, to the point where you literally didn't have to touch anything. The shower was huge and the water pressure was amazing. The Thousand also had the best bathroom amenities I've ever seen. They even gave you a hairbrush!
I can go on and on about this place, but I don't want to bore you. In short, the room design, the beds and the breakfast were all executed flawlessly. Even the dishes, yes, the plates and cups, at breakfast were of exquisite quality. The location was also very convenient to sightseeing and public transportation. So if you are planning a trip to Kyoto, I highly recommend The Thousand. I am very picky when it comes to hotels (just ask my husband), and even I couldn't find a single fault.
John Tunningley
For once it seems like I'm writing earlier than most of the other writers and I'm going to use this opportunity to claim the JW Marriott Phu Quoc Emerald Bay Resort & Spa as my favorite hotel experiences.
As one of its best value properties, Marriott offers the JW Marriott Phu Quoc Emerald Bay Resort & Spa as a category 5 hotel meaning you can snag a room at one of the most magical hotels in the world for a measly 30,000 points per night. In addition to getting a beautiful room that likely overlooks a pool, a garden, and/or the gulf of Thailand, you also get a number of free activities available on site along with a 'syllabus' and one of the most unique hotel experiences imaginable.

Themed as an abandoned university remade into a hotel, the property has everything from a main street with store vendors where they have street vendors once a week to themed buildings for each set of hotel rooms. In addition to this, they have classes offering lessons on how to create authentic Vietnamese coffee, on how to ride a bike to local attractions, and on how to build a lantern. While some of these classes cost an additional fee, many are free to participate in and most classes that do cost extra money include a meal or item you get to keep.
The hotel even goes so far as to include an app that you can download with a map of the campus.
I will say, as someone with a background in architecture, I think part of the allure was the architectural genius of the hotel's creator, Bill Bensley. The experience created was totally immersive and the hotel offered opportunities to be active and get to know the culture while still having plenty of time to relax by the pool or on the beach in a beautiful environment. It truly was a completely unique and magical experience and it's one of the few hotels I'd go back to in a heartbeat.
Joe Cheung
One of my favorite hotel experiences also happened to be one of my first "premium" hotel stays, at the Conrad Bali in Nusa Dua. My wife was pregnant with our first child and we were going all out in case we would never get a chance to use our points again. It seems like my most memorable experiences all come from my first miles and points trip!
In this case, I honestly can't remember whether we used cash or points – but that wasn't the memorable part of the trip. What I'll never forget was the first time I got to use my hard-earned Diamond Hilton status.. Just kidding, it wasn't hard to earn at all as all I did was a simple status match just for the purposes of the trip. These days, anyone who has the Hilton Aspire card has Hilton Diamond status so it's not the hardest status to obtain. Despite it being a relatively easy status to get, we still got a ton of benefits from our status.
Hilton Diamond members technically get lounge access and a free continental breakfast. In the United States, I've found that's normally all that I get (or sometimes I get even less than that). But overseas, Hilton properties tend to be more generous and the Conrad Bali was no exception. Instead of a simple continental breakfast, they let us take breakfast at the full breakfast buffet which would cost like $50+ if we were to buy it ourselves.
I still remember my wife and I asking, "do we really belong here?" But with our Diamond status – we did! The food was excellent and had a great variety of Western and Asian options including an amazing make your own noodle soup bar that I still remember seven years later.
The hotel property itself was lovely. We spent most of our time hanging out by the pool or wandering around to see what other hotels the area had to offer. My wife was pregnant, after all, so we just wanted to relax. One random thing we really got into was buying a chocolate milkshake at every hotel property we checked out. I still remember the St. Regis being a clear winner in that department!
The Conrad Bali was a stay where when it was over, we didn't want to leave. We stayed four nights but we would have been happy staying an entire week there. Luckily, due to Diamond status, they extended our checkout time until 4 PM so we squeezed every last second out of our time there. It's a hotel stay we'll never forget.
Anya Kartashova
One of my most memorable hotel experiences was at Grand Hyatt Baha Mar near Nassau, Bahamas, a couple of years ago. The trip was two months after my mom's birthday, and it was my gift to her—I'd booked our nights and flights to the Caribbean 100% with points and miles.
The Grand Hyatt Baha Mar is a Category 5 Hyatt hotel, which requires 20,000 World of Hyatt points per night. My mom and I both applied for what was then known as the Hyatt Credit Card and combined our points for a free stay.
A fellow 10xTravel contributor and community manager, Julie Szpira—bless her heart—was a Hyatt Globalist, and she booked the stay for me as her Guest of Honor. All I gotta say is the Globalist perks were incredible!
First of all, we got upgraded to an ocean-view room on the 18th floor of the West Tower. The turquoise water horizon stretched for miles, and the views were amazing.
Second, as Guests of Honor, we were granted access to the Grand Club, and it was one of the highlights for us. The weather was a bit wishy-washy during our stay at the end of January, and we ended up spending quite a bit of time at the lounge. My daily intake of smoked salmon and delicious desserts was through the roof that week.
And finally, the hotel has outstanding service, and it seemed genuine. Every single employee showed a high level of care for us as guests of the property. Needless to say, I was the favorite daughter after that trip (although I think being a single child had something to do with it as well).
Travis Cormier
I've stayed at some amazing resorts: the Park Hyatt Maldives, the Ritz Carlton Aruba, and the St. Regis Maldives. Even though I enjoy these ultra-luxe resorts, none of them are my favorite hotel experience. What really makes a hotel experience special is when it has the right atmosphere, the right ambiance, and it just feels right.
My favorite hotel experience is a hotel that lacked a lot of creature comforts that I'm used to. There was no A/C, no hot water, and had its fair share of bugs. That's why the Hotel Selva Azul at Laguna de Apoyo, Nicaragua, is my favorite hotel experience.
The Hotel Selva Azul was my first international trip, and my first trip with my wife, Miryea. What made the hotel so special to us was just the overall experience. The Hotel Selva Azul is nestled in Laguna de Apoyo, an extinct volcano that has turned into a lake.
We stayed in the Bali Room which cost only about $100 per night, and had our own private pool overlooking the lake. The views were just incredible. Deep in a jungle, there are monkeys, birds, and an extraordinary amount of wildlife around.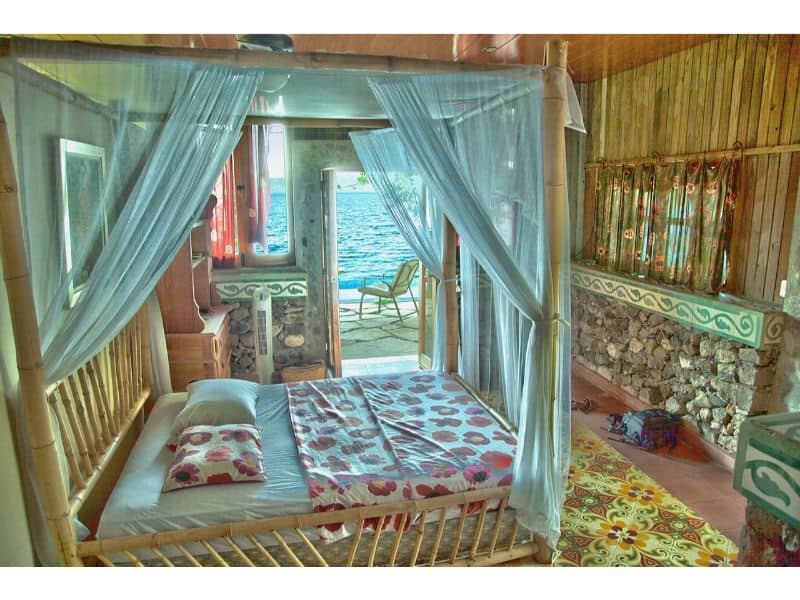 It was the perfect place to just get away from it all and relax. Even though I was missing a lot of the creature comforts I'm accustomed to at home, I was more than content and comfortable.
Unlike other resorts, the food was incredibly cheap. We stayed for about 5 days and despite drinking our fair share of Tona (which my awesome wife recently got imported to our local beer and wine shop!), and eating tons of tostones con queso (fried plantains with fried cheese), we only spent about $150.
The Nicaraguan people are some of the kindest and most accommodating people I know. They are working on building a tourism industry and are very warm and happy to welcome any and all guests into their hotels. I'm hoping to go back within the next 2 years to enjoy Hotel Selva Azul again.
Caroline Lupini
Choosing just one favorite hotel experience is so difficult, because, thanks to points and miles, I have had the pleasure of staying in quite a few amazing hotels that I never would have dreamed of paying cash for (as I type this from my $15 per night Airbnb). But, if I had to choose one favorite, it would have to be the JW Marriott Phu Quoc Emerald Bay Resort & Spa.
The hotel features a beautiful beach, multiple amazing pools, and all of its rooms are junior suites or better. I booked this hotel back before Marriott and Starwood Preferred Guest merged with Marriott's old hotel + air packages. This hotel is a Category 5 Marriott property, so rooms cost 30,000 points, 35,000 points, or 40,000 points during off-peak, standard, and peak seasons respectively. Even at 40,000 points per night, it's a great deal of a redemption for a hotel that can easily cost over $400 per night.
It's pretty rare that I stay at a hotel for longer than three or four days, so it was really a pleasure to be able to stay at the JW Marriott Phu Quoc for an entire week! Even though I got food poisoning (from the night market) and was out of commission for a full day, I still had time to explore the property, check out the different restaurants and classes, relax by the pool, visit the nearby town, and more!
And even better, Anya Kartashova, a fellow 10xTravel contributor, was staying nearby and was able to come visit for a couple of days. We mostly lounged by the pool and even did Beer Yoga together!
If you want to read more about my stay, you can check out the full review I wrote.
Matt Brown
Like most of the other 10xT staff, I've been able to both travel to and stay at some super luxurious destinations and hotels that would certainly never have happened without points and miles. Sure, stays at places like the Park Hyatt Paris-Vendôme, the Park Hyatt Sydney, the Mystique in Santorini, and many more of the hotels and resorts that are landmarks in the points and miles world bring to mind exceptional memories about my stays there.
But even with all of that, you might be surprised to read that I didn't even use points and miles for my favorite hotel experience. The horror!!
If you happened to read earlier this year my article about my trip to Peru that I took with my dad and brother last year, you might recall that we stayed at some great hotels such as the JW Marriott Cusco, Tambo del Ink, and the Palacio del Inka. Those were all booked using points, but the real cream of the crop was the one-of-a-kind experience we had staying at Skylodge Adventure Suites. And this is by far my favorite "hotel" experience to date.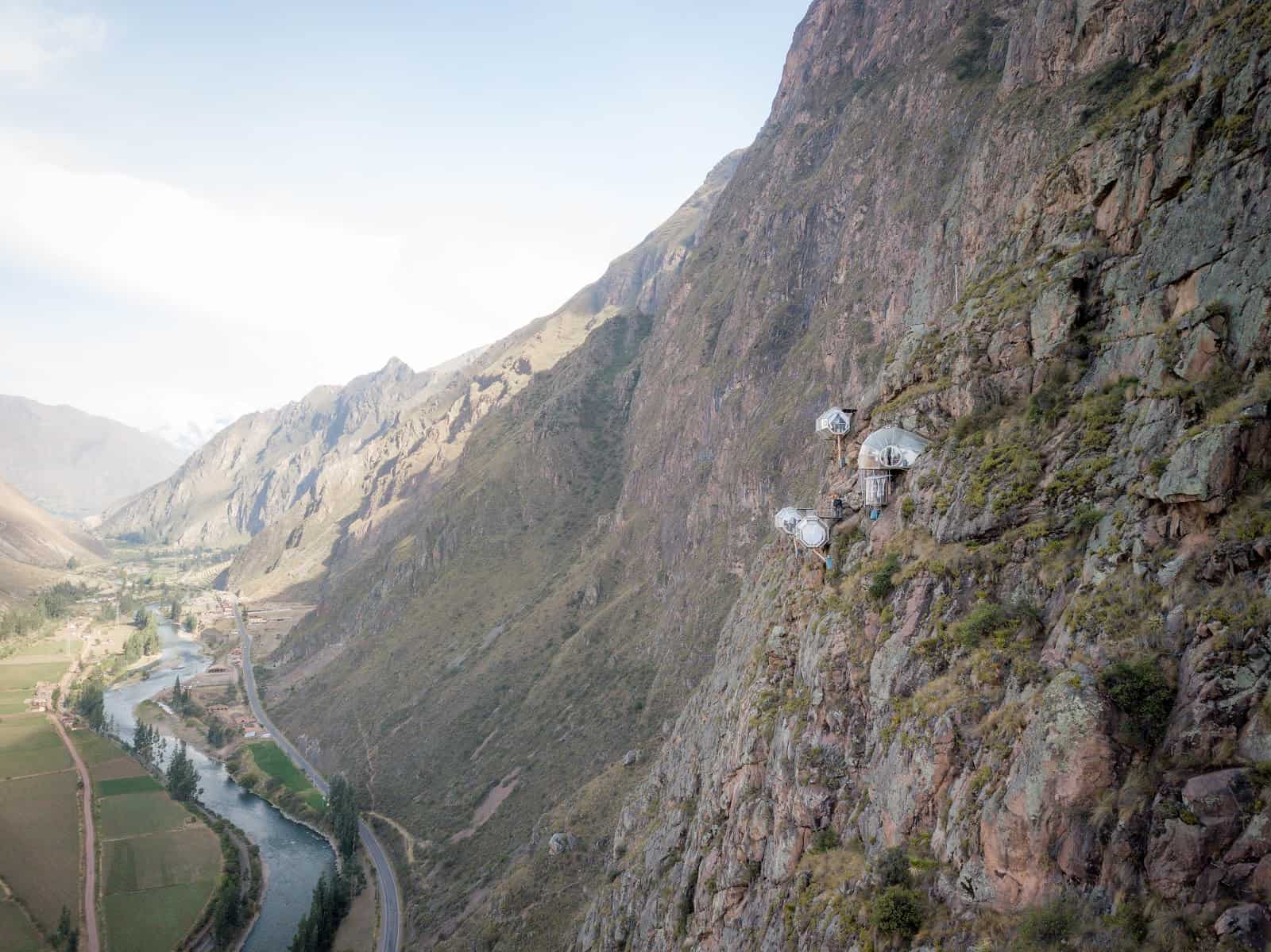 Suspended 1,300 feet straight up the side of a mountain just outside of the town of Ollantaytambo, Peru (the launching point for expeditions to Machu Picchu), the Skylodge Adventure Suites offer stunning views of the Urubamba River flowing directly below as well as the entire Sacred Valley.
To get to the Skylodges, you have to climb up the mountain Via Ferrata, which means a series of ladders and cables that are attached to the mountain. Once at the top, there are 3 pods that can each sleep 2-4 people, as well as a 4th pod that serves as the kitchen.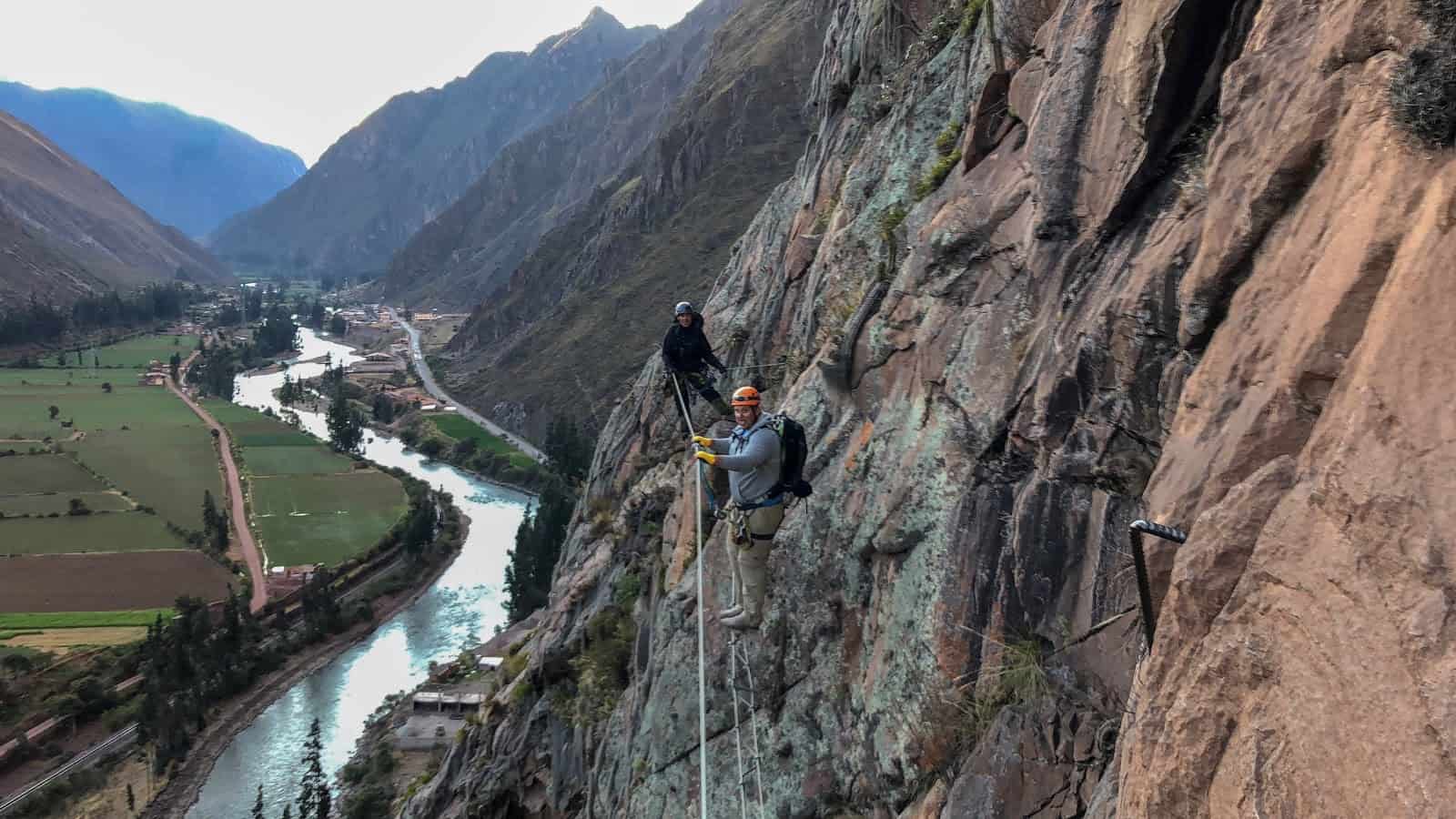 Dinner and breakfast are included in your stay when you stay overnight. The food is actually incredibly delicious, even more so when you realize that it all is hauled up each day on the backs of some of the various workers (including the bottles of wine!).
Sleeping under the stars in the Valley is one of the highlights of the experience. The beds are insanely comfortable, it's virtually silent in the pods, and it's pitch black. It makes for an incredible night of sleep, but sleeping almost feels like a waste of time, especially when you wake up in the morning and have to immediately get to breakfast to then start your descent down.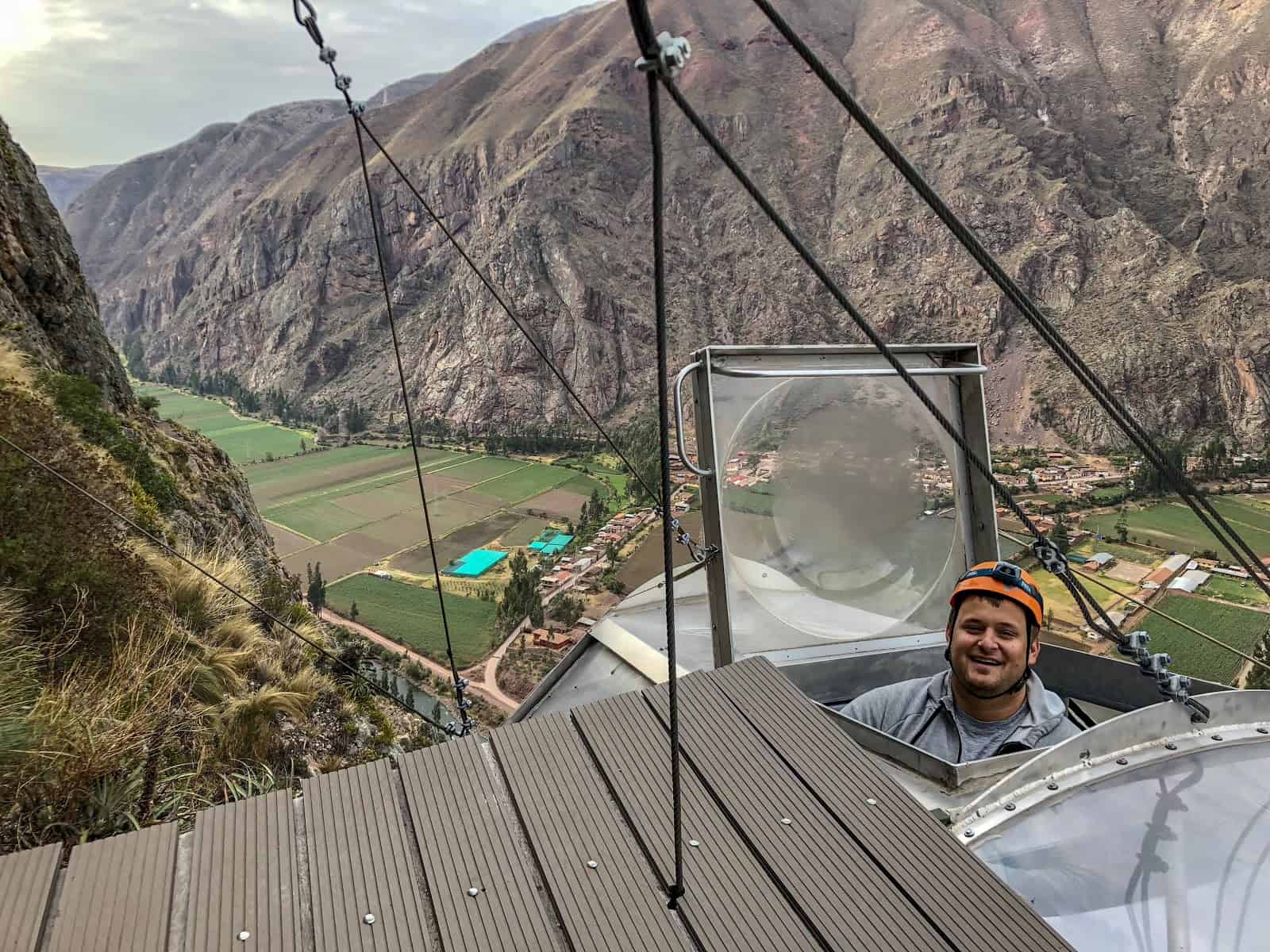 But not to fear, as if the adventure up the mountain wasn't enough, the descent is equally or even more thrilling – you work your way down the mountain via six zipline segments, with the longest being just shy of 1/2 of a mile!
So if you're in the Sacred Valley, I highly recommend you plan to stay at the SkyLodge. It costs about $445 USD for the night, so it certainly isn't cheap. But if you can use points and miles to offset some or most of your other travel experiences, then this will be easy to justify and money well spent. This way, it can easily become one of your favorite hotel experiences as it is mine.
Final Thoughts
You know a hotel is a great option when two of us can't help but choose the same one! The JW Marriott Phu Quoc is just that good. To be honest, after hearing about Caroline and John's experiences, it's hard not to book a trip with Marriott Bonvoy points right now.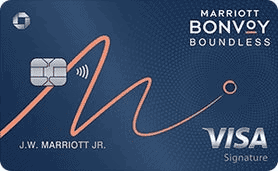 100,000 bonus points after $3,000 spend in the first 3 months
Learn more
However, it's not always about booking award stays. As Anna showed us, sometimes having the Chase Sapphire Reserve can really make the Chase travel portal an excellent option. Since your Ultimate Rewards points are worth 1.5 cents per point in the travel portal, this can be a great option for boutique hotel stays.
Finally, we have Matt. He threw caution to the wind and decided he wanted to sleep while hanging from a cliff. Was it the cheapest option possible? No. Was it an amazing experience? Absolutely. The best part about this is that he used points for flights and other hotel stays which meant he had room in his budget for this insane experience.
I now feel the urge to book this.
Whatever you're looking for in a hotel experience, there are some amazing places for you to stay. Figure out what you want from a hotel stay, do a little research, and you just might find yourself writing a Reader Success story about your trip.
New to the world of points and miles? The Chase Sapphire Preferred is the best card to start with. With a bonus of 80,000 points after $4,000 spend in the first 3 months and 2x points on dining and travel, this card truly cannot be beat! 
Learn more
---
10xTravel is part of an affiliate sales network and receives compensation for sending traffic to partner sites, such as CreditCards.com. This compensation may impact how and where links appear on this site. This site does not include all financial companies or all available financial offers.
Editors Note: Opinions expressed here are author's alone, not those of any bank, credit card issuer, hotel, airline, or other entity. This content has not been reviewed, approved or otherwise endorsed by any of the entities included within the post.