In This Article
Loading table of contents …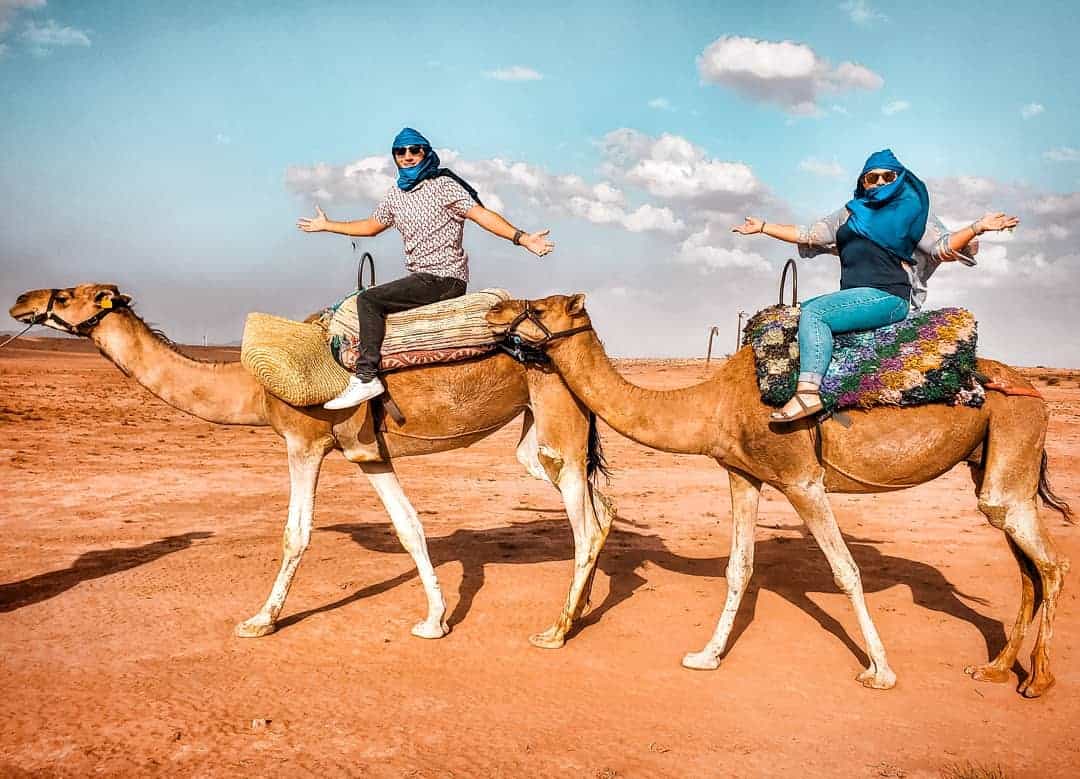 Note: Some of the offers mentioned below may have changed or are no longer be available. The content on this page is accurate as of the posting date; however, some of our partner offers may have expired. You can view current offers here.
By 10xTravel Reader Robert Wells
Enjoy Robert & Amelia's stories from their year-long journey around the world. You can also follow their journey on Instagram.
If you missed the beginning of Robert's trip, you can catch up with Part 1, Part 2, Part 3, and Part 4.
After enjoying some downtime in Portugal, we set up a round trip positioning flight with a Ryanair flight to head to Barcelona as a base to fly to Morocco. Positioning flights work great, even when you aren't using points and miles to travel, especially when you're travelling from a cheap hub city like Barcelona.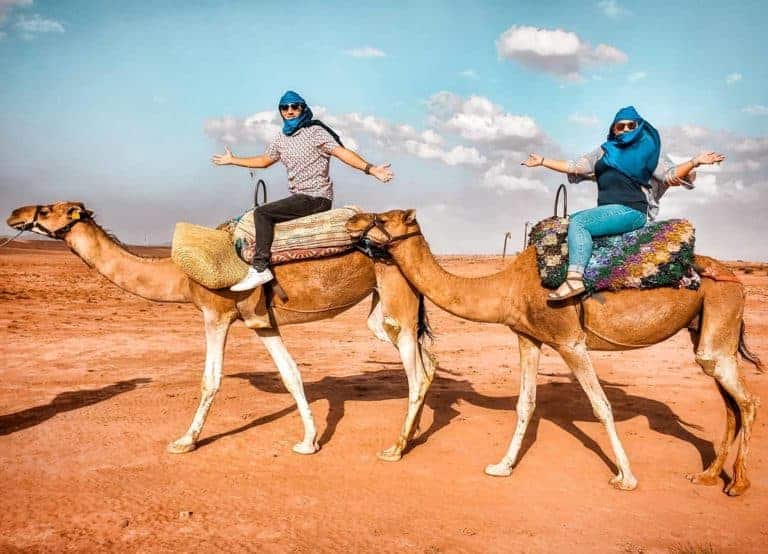 Using Budget Airline Carriers
Ryanair is a popular airline for dirt-cheap travel around Europe much like Spirit and Frontier in the United States, although we have never seen such cheap fares.
For us to travel from Porto to Barcelona cost only $58 for both of us. This simply can't be beat with either time or money. If you plan on travelling for an extended period around Europe and trains turn out to be not the best option, time or otherwise, certainly give Ryanair a look, with a few caveats. As with most low-cost carriers, travelling lightly will be your best option.
While we got fares for only $19 a piece, we paid an extra $10 each for a carry-on bag. This wasn't a massive fee but, if you plan on multiple flights with multiple bags, it can add up quickly. Additionally, they do weigh bags, so we had to rearrange our stuff to keep under the weight limit. The airline also charges you if you have no boarding pass printed ahead of time.
By keeping these tips in mind, we were able to save lots of money to use for more travel on this trip. Like some 10xTravel readers, we love using our points for luxury experiences, but this was far from one of them. We've flown Cathay Pacific first class with free-flowing Krug champagne for 16 hours… and now we've sat in middle seats, separated on a Ryanair flight, crunched like peanuts, and not even water was included.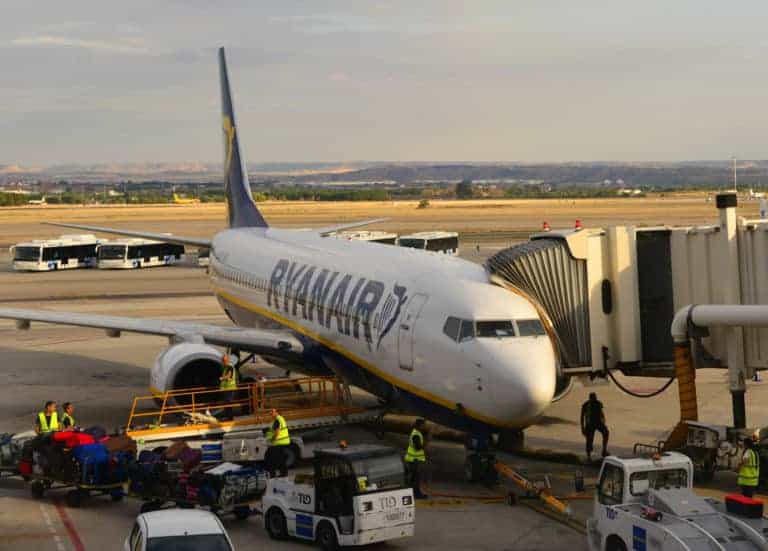 Sometimes our love for travel leads to both experiences, and there is nothing wrong with that, because at the end of the day you have still travelled from Point A to Point B.
Flying to Fes
We arrived late into Morocco's popular hub city for Ryanair called Fes. Unsurprisingly, one more area Ryanair loves cutting corners on is gate space at airports. Typically, this means a walk across the airport tarmacs, or a bus to the main terminal. Personally, this is not a downside for us, because as aviation geeks, we love getting to walk around the planes and see the equipment and pre/post flight operations.
Once we were through customs, we skipped the arrival lounge Priority Pass and continued onto our rental car center. The rental car in Morocco was the source of much debate between us as to whether it was a better idea to take public transportation. Ultimately, we decided the car was the best move due to the long distances and limited timeframe.
Upon arrival to the Fes airport, we proceeded to the Hertz counters to pick up the vehicle. The process was fairly straightforward, and the team was helpful, but if you think the Hertz quality is consistent across the board worldwide, you would be very wrong.
Although I expected to drive a stick shift, what I did not expect to find was a car that had a 3rd party tape deck in it for music.
Exploring Casablanca & Staying at the Sheraton Casablanca
If your visions of Casablanca are based on the old film, and you think that this city is romantic or dreamy, you would be dead wrong. We arrived at a complete wasteland looking town, filled with people crowding the streets so densely that we had to honk our way through to avoid hitting anyone. The layer of smog was so thick we were coughing in our car even with the windows rolled up. It was certainly not what we were expecting.
Upon arrival at the hotel, a valet parked our clunker in the lot behind the hotel, and we went through metal detectors and body scanners to enter. This was certainly a first for us entering a Marriott property, but brought a peace of mind all the same. We were greeted with two cups of Morocco's specialty mint tea for the check in process.
We originally planned to stay two nights, but due to the early arrival, we opted to spend an extra day in Marrakesh as there was nothing to do in Casablanca. The club lounge was on the top floor providing a nice view of the overly polluted city. Sheraton hotels tend to be just a bit nicer abroad as opposed to the U.S., but they can be a bit outdated at times. However, it was clean, smoke-free and most importantly, we were able to book with 12,000 Marriott Bonvoy points instead of $241.
Every so often, Amelia just needs a down day, and she chose our night here to relax while I went exploring. I wandered through beautiful souks, neighborhoods, and played soccer with the local kids on my way to the Hassan II Mosque.
This mosque is unique because very few around the world allow non-Muslims to visit and tour but this one does. An archeological marvel, this mosque puts U.S. "megachurches" to shame.
Marrakesh
After a long six-hour drive, we approached the old walled city of Marrakesh, struck by the color and majesty of the town. This was a stark contrast from the over-polluted, bland tone of Casablanca. We planned three nights here, one in a local Riad (similar to a Homestay) and two in a Marriott property. We used Booking.com to secure the Riad for a great price.
Distracted by the beauty of the city, I immediately got lost and my Google Maps went haywire. Without SIM cards, we had only been relying on offline maps, which only work great until they don't and you stray off track by the slightest bit.
*** This next part is going to be the first part in a continuing series called, "Completely preventable rookie travel mistakes Robert made," as a very opportunistic local stepped up to our window and offered to help, seeing our confusion. ***
He guided us to a parking lot and offered to walk us to our Riad. In an alternate reality, I say, "no thanks". Instead, I took the bait, and he walked us to our front door. At this point, he demanded payment of US $20 from us for the "tour guide."
When I forcedly told him absolutely not and offered him a small tip for his time (about US $5) which I was going to do anyway, he got violent and in my face. Immediately, I ushered Amelia inside and followed her to the sound of "We will be waiting for you when you leave." It was at this point the owner of the Riad weighed in on the situation and called the police.
In Morocco, and especially the larger cities, I came to find out that harassing tourists is a crime. After several undercover officers showed up, the three men and the two officers got into a fist fight after they tried to run away. I was asked to come to the police station to record a statement.
I knew that we hadn't done anything wrong, but when you're sitting in an interrogation style room without your passport, your mind cannot help but race. At least I had my cell phone to communicate with Amelia through my Dad (she could not receive text messages)
Justice is very odd in Morocco besides the absolutely abhorrent conditions of the jail. I walked by the holding area which was a 10 x 10 room holding about 40 people. An officer walked by and literally threw a bucket of cellophane wrapped sandwiches into the cell for them to feast on.
Since nothing is documented in English, I requested a French copy before I signed. Who only knows what It could have stated after all?  I do not speak fluent French, but my verbal and reading comprehension is enough to get by. I had the Riad owner on my left and another office on my right both arguing for me to sign a statement pressing charges.
The arresting officer dragged the three men into the room, who were all crying and pleading at this point for me to grant them leniency.  They pleaded that they had families and couldn't go to jail for six months. Ultimately, probably thanks to my mother, I declined to press charges and left it up to the Riad owner who promptly signed them into six months of incarceration. Oh, well… at least I tried.
The Riad owner drove us both back to the hotel, profusely apologetic, and I arrived at a beautiful rooftop dinner that his colleague had prepared for Amelia and I. Upon checkout the next morning, he absolutely refused payment, and asked instead for a kind review on TripAdvisor.
New to the world of points and miles? The Chase Sapphire Preferred is the best card to start with.

With a best-ever bonus of 100,000 points after $4,000 spend in the first 3 months, 5x points on travel booked through the Chase Travel Portal and 3x points on restaurants, streaming services, and online groceries (excluding Target, Walmart, and wholesale clubs), this card truly cannot be beat for getting started!
Learn More
Editors Note: Opinions expressed here are author's alone, not those of any bank, credit card issuer, hotel, airline, or other entity. This content has not been reviewed, approved or otherwise endorsed by any of the entities included within the post.