In This Article
Loading table of contents …
Experience Timeless Elegance and Exceptional Service at the Great Northern Hotel in London.
Note: Some of the offers mentioned below may have changed or may no longer be available. The content on this page is accurate as of the posting date; however, some of our partner offers may have expired. You can view current offers here.
Overview of Great Northern Hotel
While many London transits begin or end at King's Cross station, not every traveler gets the opportunity to stop and enjoy the area around the station itself. At the Great Northern Hotel, a Tribute Portfolio Hotel, visitors are transported back in time to an era that was equally as busy but possibly a bit more charming than our modern expectation of a train hub.
Located at King's Cross station, the Great Northern Hotel is London's original railway hotel. Serving travelers since 1854, this hotel proudly provides a comfortable haven for folks on the go. Great Northern Hotel is a boutique property with each room individually crafted to bring back memories of King's Cross as a vital transit hub to and from London, long before airplanes took to the skies and landed at Heathrow or Gatwick airports.
If you're in London for a quick stop, check out the Great Northern Hotel. Read on to learn more about this luxurious, historical property.
How I Booked Great Northern Hotel
I had a bunch of free night certificates from various Marriott cards that were due to expire throughout 2022 after being extended at least once during the pandemic. That meant it was time to put them to good use. And what better use is there than a nice hotel in a big city in Europe in the summer?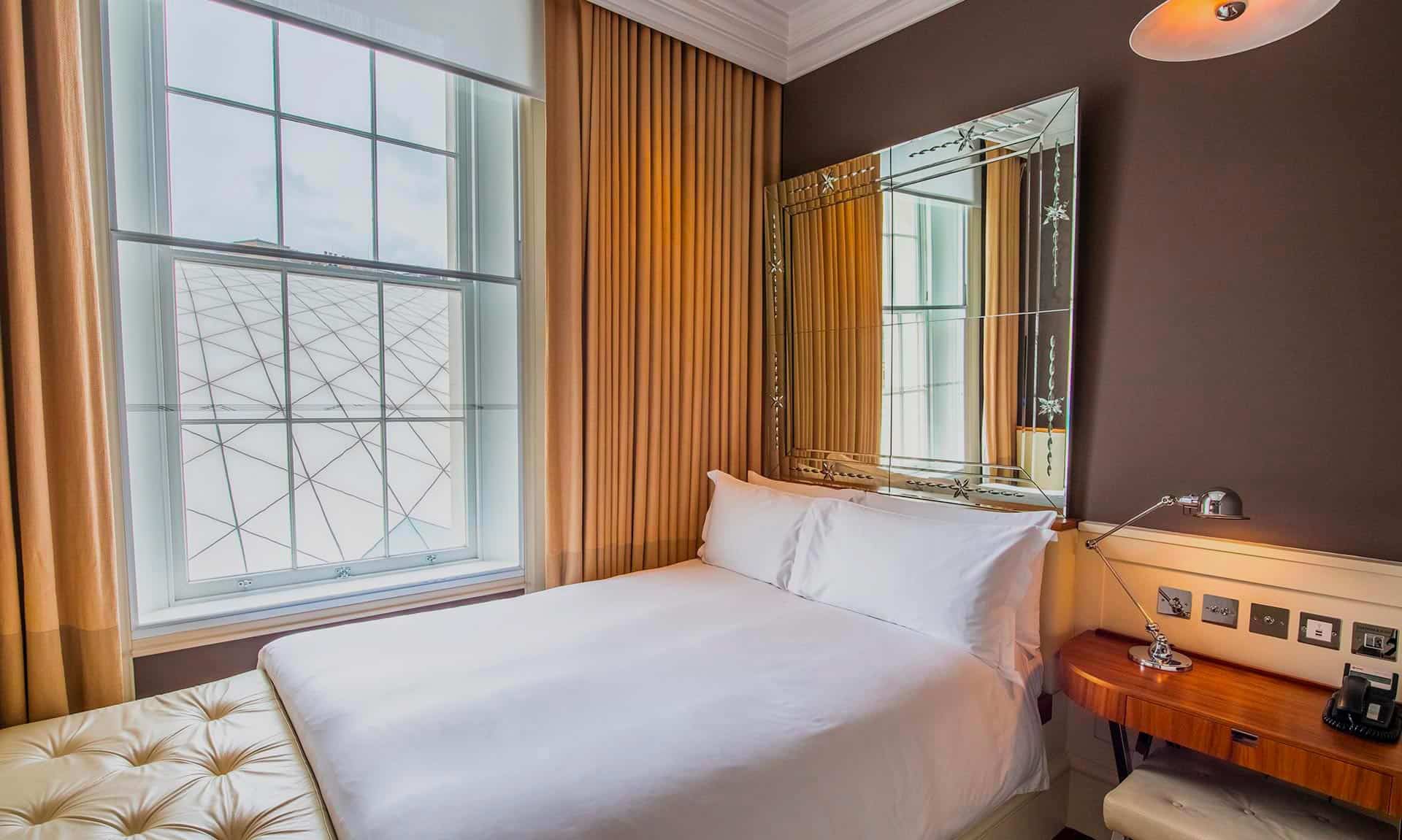 I booked a One Double Bed, Couchette Guest Room for four nights with four of these certificates. I also used suite night upgrade awards, but they didn't end up clearing ahead of time and were returned to my account.
It's also possible to book this hotel with Marriott points, which can be earned with the following credit cards:
Marriott Bonvoy Bountiful™ Credit Card
You can expect to be able to redeem a free night at this property for between 43,000 and 63,000 Marriott Bonvoy points, and availability tends to be pretty good at the property.
Great Northern Hotel Location
The Great Northern Hotel is located between King's Cross station, St. Pancras station and the corresponding London Underground (aka the Tube) station: King's Cross St. Pancras. I can't overstate the convenience of this location—it's ideal for anybody traveling to, from or around London.
King's Cross station was originally built in the early 1850s as a terminal for the Great Northern Railway, which became the hotel's namesake in 1854. Today, King's Cross serves several long-distance trains as well as the Underground, including lines to and from London's major airports.
It takes, on average, an hour to get to the Great Northern Hotel via train from London-Heathrow, London-Gatwick or London-Stansted airports. From there, it couldn't be simpler to hop on the Underground to explore London or catch a long-distance train for a trip across the U.K., or even down to Paris.
Best Parts of Great Northern Hotel
Its location is ideal for a quick stop in London
I've already talked about this in the previous section, but this location couldn't possibly be more convenient for travelers in transit. It's pretty difficult to visit London without touching King's Cross at least once, so no matter where you're headed, it doesn't hurt to start there.
The vibe is cozy and quiet, but it's easy to find a party
Stepping into this hotel is a bit like stepping back in time. With decor that likens the lobby to an old railway waiting room, I felt a bit like an intrepid traveler escaping the great cholera outbreak at the dusk of the Industrial Revolution. Daydreaming aside, I found the property to be extremely cozy and comfortable. But if I were in the mood to find a party, the property is located just steps away from Camden and a short Tube ride away from, well, everywhere else!
Great Northern Hotel Drawbacks
It's not great for a family or friends trip
There aren't many drawbacks to this property because it serves its purpose well, but if you're looking for something completely different, then it wouldn't be an ideal property for your trip.
This hotel is really geared towards transit travelers, solo travelers or business travelers, not necessarily for a getaway with family or friends. It's a bit more mature of a space rather than a hotel with plenty of kid-friendly activities, and there isn't any reason to stay near the train stations if you aren't on your way in or out. So if you're coming in for a longer stay with friends or family, then this might not be the best choice for your trip.
There isn't much to do on site
For such a sophisticated property, there are no real on-site amenities. The property doesn't have a pool, fitness center or spa, so if those facilities are important to you, then this won't be an ideal spot.
Getting to Great Northern Hotel
This hotel is easily accessible via train or the Underground from any of London's major airports or train stations around the U.K.
From London-Heathrow: Take the Heathrow Express to Paddington Station, then hop on the Underground. Alternatively, take the Piccadilly Underground line all the way.
From London-Gatwick: Hop on the Thameslink all the way or take the Gatwick Express to Victoria Station and hop on the Underground.
From London-Stansted: Take the Stansted Express to Tottenham Hale, then hop on the Underground.
From Cambridge, England: Take the Great Northern railway.
From Manchester, England: Take the Avanti West Coast line.
From Edinburgh, Scotland: Take the London North Eastern Railway.
From Paris: Take the Eurostar to St. Pancras station.
You could drive if you'd like, but it's so convenient to travel by railway that it would almost be silly to bring your car along. I definitely recommend taking advantage of London's convenient railway system.
Personally, I came directly to St. Pancras station after taking the Eurostar from Brussels. When it came time to leave, I also headed to St. Pancras station for a train to Dover, England.
Check-In
As this property is located between two major train stations, they're accustomed to receiving a steady stream of guests, plus extra waves as the trains come and go. The short queue gave me a chance to really look around the lobby and appreciate the old-timey feel, as if I were waiting for a room after taking a locomotive from Edinburgh rather than a transatlantic flight from New York.
Once it was my turn, check-in was quick and concise. I arrived in the evening, so there were no issues with check-in time, and the room was ready for me. All that remained was to head up with my bags and enjoy it.
I have Titanium status with Marriott and was treated to free breakfast at the restaurant throughout my stay. It was a great breakfast that I looked forward to each morning as I was able to choose what I wanted off of the menu.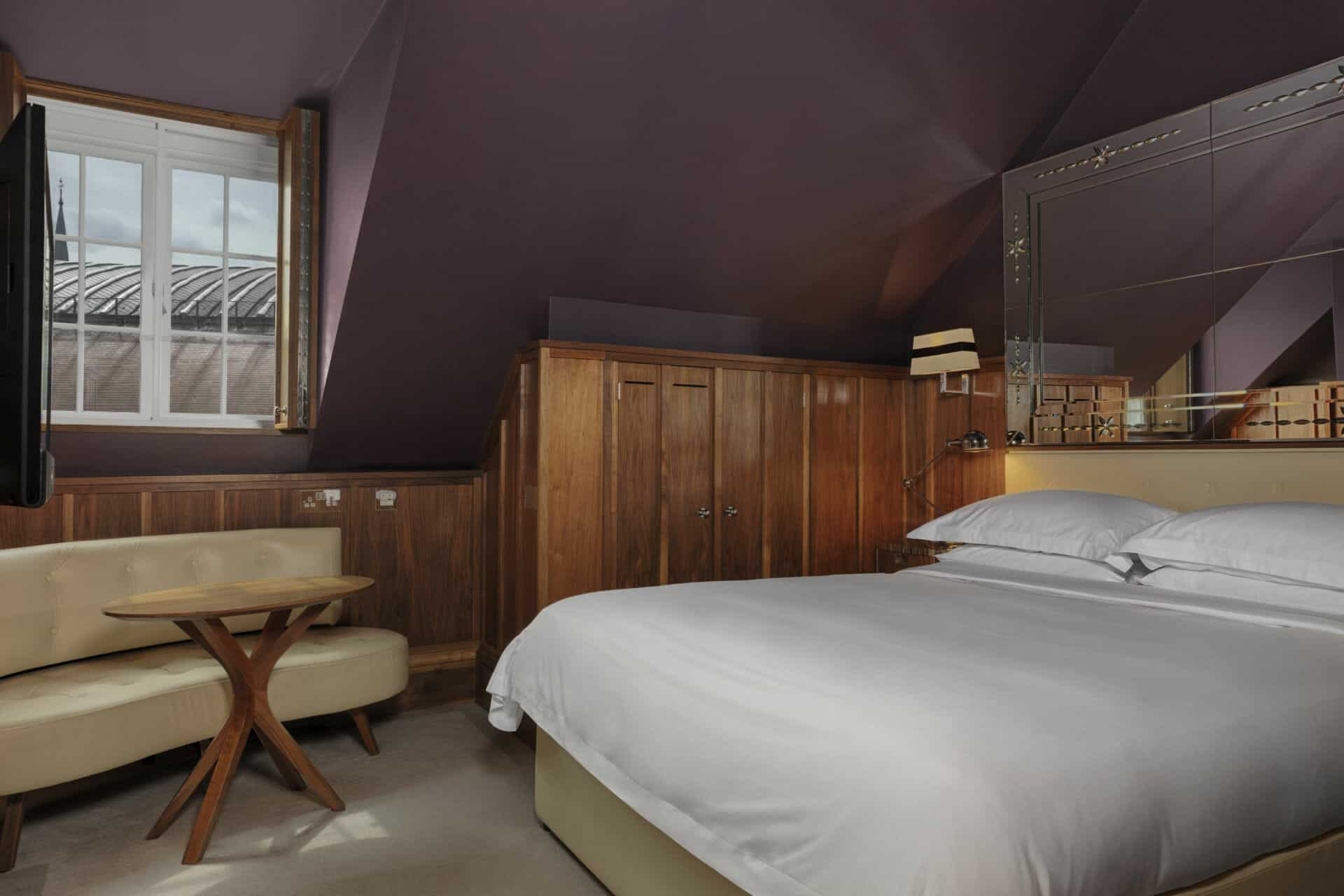 I was upgraded from the Couchette Room, which is what I booked, to the Edwardian Room, even though my suite upgrades didn't clear ahead of time.
The Room at Great Northern Hotel
I booked a Couchette Guest Room, which is one of the smaller guest bedrooms with one double bed. It is a petite, 17-square-meter (183-square-foot) room with a smart layout that makes every inch count.
Luckily, I was upgraded to a slightly larger room, the Edwardian Room. It had a somewhat quirky shape to it, but I was happy to have the extra space because I was sharing it with a friend. A large mirror hung above the head of the bed, which I would've preferred somewhere else such that I could've more easily stood in front of it, but it was quite a nice mirror anyway.
I was pleased to see both British and USB-style outlets at the workstation. I also was pleased that the vibe of the room seemed to match the vibe of the lobby—it's storied and sophisticated while remaining modern and relevant. I didn't expect spectacular views from a property tucked into a train station, but I did have a nice view of the domed roof of King's Cross. I liked that because it helped me imagine all of the people and trains moving in and out on the other side.
I found the room to be cozy and comfortable as I expect from any decent hotel. The linens were soft, and four pillows were provided, making it easy to adjust them to my liking. It was neither drafty nor stuffy, and despite the bustle just outside, the windows had been soundproofed so I had no problems with noise.
The bathroom was tiled from floor to ceiling with white tiles and included a stand-up shower and power outlets. There was a small glass shelf above the sink, but most of the space was taken by the complimentary amenity bottles so I set my things on the sink itself.
True to its vibe, the property provides enough space and internet for getting work done from the room if necessary. High-speed internet is complimentary, and the small work desk was just big enough for a laptop. There were also complimentary bottles of water and a coffee/tea maker, which I appreciated after the long flight.
Overall, this room was perfect for a quick trip. It was cozy, comfortable and convenient for a short stay in London.
Food and Drink
Visitors at the Great Northern Hotel have the option to dine at the on-site Rails Restaurant, Little Bar and Lounge, and GNH Bar & Terrace. One of the main dining themes at the Great Northern Hotel is French cuisine, as the nearby St. Pancras station hosts the Eurostar link to Paris. Note that the dress code is generally smart casual and that dinner seatings are available only Tuesday through Friday.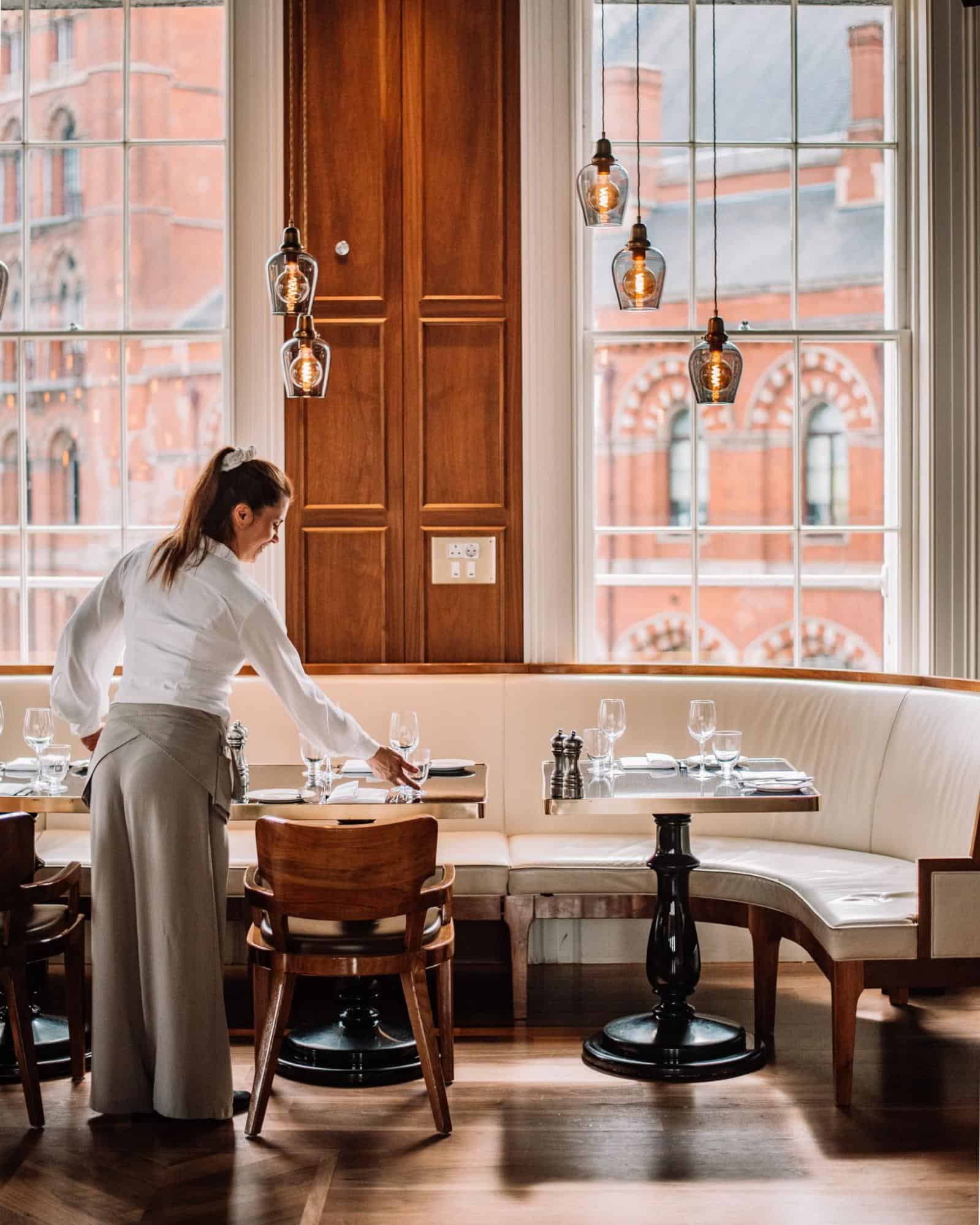 Breakfast isn't automatically included unless you have Platinum elite status or higher or book a rate that includes breakfast. Unfortunately, it's not particularly budget-friendly if you don't have it included, but if you do decide to indulge in their delicious on-site breakfast, it's cooked to order and fabulous. If you're looking for full English, then you can certainly find it there. That said, there are plenty of breakfast options just steps away, and a full English is not difficult to hunt down in London.
Amenities
This property doesn't have any amenities in terms of pools, fitness centers or a spa. However, it's within walking distance to Better Gym at Pancras Square Leisure as well as St. Pancras Spa. Both of these facilities are just a 300-meter walk away but not properly located on site.
If you're in search of a meeting room, there's a small board room on site. The meeting room can seat 14 delegates, making it an ideal meeting spot for business travelers doing a quick tag-up in London. This isn't a bad idea for a small meeting, considering its location and ease of access.
Service
I found the service at the Great Northern Hotel to be pleasant, and it was especially nice that they offer turn-down service again after shutting that down for a while. Everyone I encountered, from the doorman to reception to the restaurant, was friendly and welcoming. I always appreciate some quick small talk when I'm traveling by myself—as I was for the first part of my stay before my friend arrived. It helps me feel at home, and I was glad that the staff took the time to indulge me a bit.
Great Northern Hotel Family Friendliness
As I mentioned before, this hotel isn't meant for a family vacation as much as it's intended for transiting travelers. Even the larger guest room is 23 square meters (247 square feet) and has just one bed, so larger families with older children would likely need to book several rooms. In addition, there are no dedicated kid-friendly spaces at the property, but the hotel staff would always be glad to suggest family-friendly activities in the area.
Overall, I'd take the entire family to this property only if we had an early train in the morning, but even then, there are plenty of more budget-friendly options in the area. The Great Northern Hotel is geared more appropriately towards adult travelers on the go.
Final Thoughts on Great Northern Hotel
This is an excellent hotel for solo or business travelers in transit via King's Cross or St. Pancras. It provides a great London home base if you need to get in and out quickly, but it's not a bad choice if you'd like to explore the city a bit as well. If you're stopping by London for a relatively quick transit and would like the chance to experience the vibe of the railway station's golden years, then Great Northern Hotel is an excellent choice.
Chase Sapphire Preferred® Card
New to the world of points and miles? The Chase Sapphire Preferred® Card is the best card to start with.
With a bonus of 60,000 Chase Ultimate Rewards® Points after you spend $4,000 on purchases in the first 3 months of account opening. , 5x points on travel booked through the Chase Travel Portal and 3x points on restaurants, streaming services, and online groceries (excluding Target, Walmart, and wholesale clubs), this card truly cannot be beat for getting started!
Learn How to Apply
Editors Note: Opinions expressed here are author's alone, not those of any bank, credit card issuer, hotel, airline, or other entity. This content has not been reviewed, approved or otherwise endorsed by any of the entities included within the post.