In March, the Starwood Preferred Guest Business Card from American Express was offering a limited time offer of 35,000 Starpoints after spending $7,000 in the first 3 months after opening the card.
(This offer is no longer available as of March 28, 2018)
This offer only comes around about once a year, so I hope you had the opportunity to sign up for it if you were eligible! If you signed up for the card and completed the minimum spend requirement, you'll have at least 42,000 Starpoints in your account.
So, now that you've got a good chunk of Starpoints, here are a few ideas of how to redeem them on your next trip.
Transfer Starpoints to Airline Miles (With a Bonus)
One of the reasons Starpoints are so highly valued in the miles and points community is that they can be transferred to a wide variety of airline partners, including several partners unique to SPG. Almost all of these partners have a 1:1 transfer ratio, so 1 Starpoint = 1 airline mile.
On top of this, Starwood gives you a bonus of 5,000 miles for every 20,000 Starpoints transferred.
20,000 Starpoints = 25,000 miles, 40,000 Starpoints = 50,000 miles, etc. You can transfer a maximum of 79,999 Starpoints per 24 hours, so to maximize the bonus you won't want to transfer more than 60,000 points per day.
(The math is slightly different for Air New Zealand, Gol, LATAM, and United, but the same principle applies – when you spend 20,000 Starpoints, you get the equivalent of 25,000 Starpoints.)
Here are a few specific examples of redemptions you could make with your SPG points:
Book Cathay Pacific business class from the U.S. to Southeast Asia for only 50,000 Alaska Mileage Plan miles (40,000 SPG)
Fly to South America on LATAM in business class for only 45,000 Alaska Mileage Plan miles (40,000 SPG) and you'll have 5,000 Alaska miles already saved for your next trip!
You only need 25,000 Flying Blue miles to get to Europe in economy class (20,000 SPG)
Korean Air SkyPass only requires 25,000 miles round-trip for an economy trip to Hawaii (that's only 20,000 SPG)!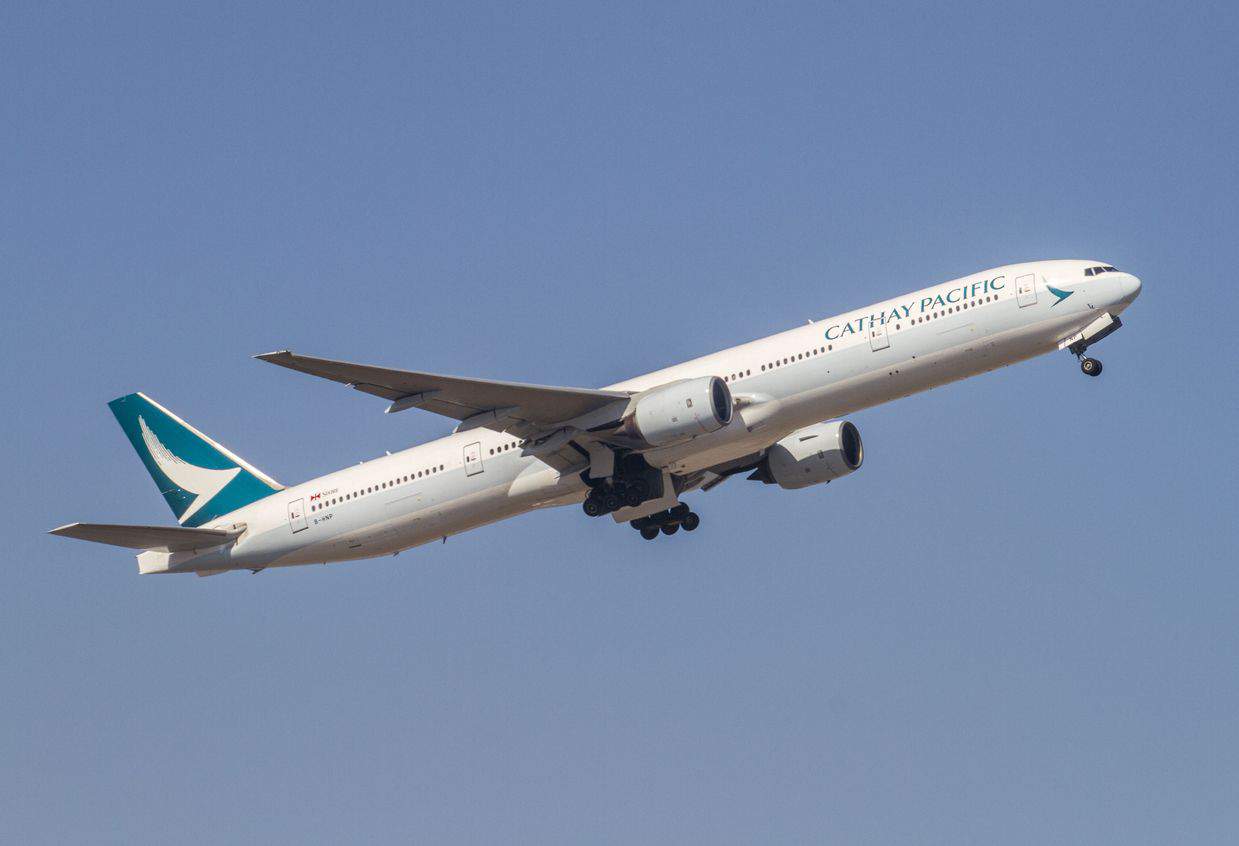 You can transfer your Starpoints to Alaska Mileage Plan to book Cathay Pacific
Here's the full list of Starwood transfer partners, and their transfer ratios. Program names in bold do not partner with any other major transferable points programs—American Express Membership Rewards, Chase Ultimate Rewards or Citi ThankYou Points.
I've also bolded ratios other than 1:1.
| | |
| --- | --- |
| Mileage program | Transfer ratio |
| Aegean Airlines | 1:1 |
| Aeromexico | 1:1 |
| Air Canada | 1:1 |
| Air China | 1:1 |
| Air France/KLM (Flying Blue) | 1:1 |
| Air New Zealand | 65:1 |
| Alaska Airlines | 1:1 |
| Alitalia | 1:1 |
| All Nippon Airways (ANA) | 1:1 |
| American Airlines | 1:1 |
| Avianca | 1:1 |
| Asiana Airlines | 1:1 |
| British Airways | 1:1 |
| Cathay Pacific | 1:1 |
| China Eastern Airlines | 1:1 |
| Delta Air Lines | 1:1 |
| Emirates | 1:1 |
| Etihad Airways | 1:1 |
| Gol | 2:1 |
| Hainan Airlines | 1:1 |
| Hawaiian Airlines | 1:1 |
| Iberia | 1:1 |
| Japan Airlines (JAL) | 1:1 |
| Jet Airways | 1:1 |
| Korean Air | 1:1 |
| LATAM Airlines (temporarily suspended) | 1:1.5 |
| Lufthansa Group (Miles and More) | 1:1 |
| Qatar Airways | 1:1 |
| Saudi Arabian Airlines | 1:1 |
| Singapore Airlines | 1:1 |
| Thai Airways | 1:1 |
| United | 2:1 |
| Virgin Atlantic | 1:1 |
| Virgin Australia | 1:1 |
Note that unlike the instant transfers available with most transferable points partners, Starwood point transfers can take as many as 14 days to complete. While common transfer partners such as American AAdvantage and Alaska Mileage Plan generally take a couple days, this is important to remember.
Of course, award availability could disappear during the transfer time so it's a good idea to have a backup plan in case your ideal flights are no longer available.
You can transfer Starwood points to airlines miles on the Starwood Preferred Guest website.
Book Free Nights at Starwood Hotels
The most obvious way to redeem SPG Starpoints is for nights at Starwood hotels. While you won't get a bonus as you do with transfers to airlines, you can get some great value by booking award stays at Starwood properties. Here's a breakdown of the points required by category.
Category 1: 3,000 points (2,000 for Fri/Sat)
Category 2: 4,000 points (3,000 for Fri/Sat)
Category 3: 7,000 points
Category 4: 10,000 points
Category 5: 12,000–16,000 points
Category 6: 20,000–25,000 points
Category 7: 30,000–35,000 points
A while back, Bryce wrote about a long weekend in Central Europe in which he used Starpoints to stay at Luxury Collection hotels in Prague and Vienna. Those were both Category 5 properties, so they cost 12,000 points per night.
Bryce stayed at the Augustine Hotel in Prague for 12,000 Starpoints per night. Image courtesy of Augustinehotel.com
Beyond the solid values on the standard redemption chart, Starwood has a couple of extra deals up their sleeve. As noted above, at Category 1 and 2 hotels, you'll save 1,000 points per night on weekends (Friday and Saturday nights)—this discount is automatically applied at booking.
For the higher category properties (Categories 3-7), if you book 5 nights you'll get the 5th night free so you'll only need the points required for a 4-night stay. This will also be applied automatically at the time of booking.
A few hotels that I really love just to get you thinking about your options:
Le Meridien Pyramids Hotel and Spa Cairo, Egypt (Category 1)
Le Meridien Angkor Siem Reap, Cambodia (Category 2)
Sheraton Kauai Resort (Category 3) (I haven't actually stayed here yet but I think it's a great deal!)
Le Meridien Pyramids Egypt – Image Courtesy of StarwoodHotels.com
One caveat with Starwood free nights, although there are technically no blackout dates, award nights are capacity controlled and only "standard rooms" are available for points bookings. Each hotel gets to decide what a standard room is so even if there are rooms available for cash bookings, that doesn't mean you'll be able to use your points.
Starwood doesn't charge any taxes or fees on award nights, though you may still have to pay resort fees if you're staying at a property that charges them.
Stretch your Points with Cash + Points Awards
If you don't want to burn all your Starpoints at once, Starwood also offers Cash and Points awards that allow you to stretch the value of your Starpoints by paying a fixed number of cash and points. Here's the rates for Cash + Points stays:
Category 1: 1,500 points + $30
Category 2: 2,000 points + $35
Category 3: 3,500 points + $55
Category 4: 5,000 points + $75
Category 5: 6,000 points + $110
Category 6: 10,000 points + $180
Category 7: 15,000 points + $275
These rooms are more tightly restricted than standard award nights so, depending on the hotel, they can be more difficult to find—some properties seemingly never release Cash + Points availability. Typically, you'll pay taxes on the cash portion of the stay, so your cash outlay will be a bit higher than these numbers suggest but this can still get you an incredible number of stays for a relatively small amount of money. With 42,000 SPG Starpoints, you could book:
28 nights at a Category 1 hotel
21 nights at a Category 2 hotel
12 nights at a Category 3 hotel
8 nights at a Category 4 hotel
7 nights at a Category 5 hotel
4 nights at a Category 6 hotel
2 nights at a Category 7 hotel
Bryce previously wrote about using Cash + Points rates at the Sheraton Lisboa and The Westin Palace Madrid. Between the two hotels, he saved over $660 by redeeming 25,000 Starpoints for Cash + Points awards.
The Westin Palace, Madrid
Transfer Starpoints to Marriott Rewards
Since Marriott acquired Starwood in 2016, you can transfer Starpoints to Marriott Rewards at a 1:3 ratio so the 42,000 Starpoints you earned from signing up for the card and completing the minimum spend could get you 126,000 Marriott Rewards points.
This opens up nearly 5,000 hotel options around the world.
Marriott Rewards redemptions start at 7,500 points per night (2,500 Starpoints) for Category 1 properties and go up to 70,000 points per night (23,333 Starpoints) for their highest-tier Ritz Carlton properties.
They also offer rotating seasonal PointSavers promotions that can reduce the per-night points cost, as well as Flight and Hotel packages that provide a certificate for a 7-night stay plus tens of thousands of airline miles.These packages start at 200,000 Marriott points (66,667 Starpoints).
Depending on where you're traveling, you might be able to get even better value by transferring your Starpoints to Marriott Rewards.
Final Thoughts
If you have a chunk of SPG Starpoints from the recent sign up bonus or have been saving up for awhile, there are a ton of great ways to redeem your points! Hopefully, the ideas above can help you get started.
What are some of the best redemptions you've made with your SPG points?
---
Editor's Note: Opinions expressed here are author's alone, not those of any bank, credit card issuer, hotel, airline, or other entity. This content has not been reviewed, approved or otherwise endorsed by any of the entities included within the post.