In This Article
Loading table of contents …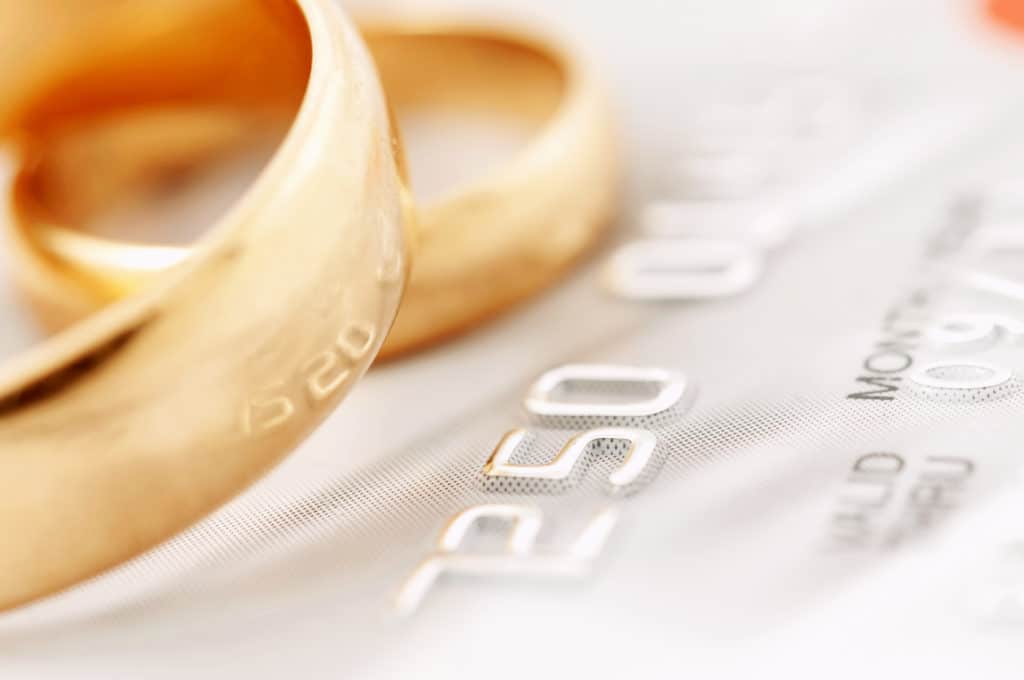 Note: Some of the offers mentioned below may have changed or are no longer be available. You can view current offers here.
Weddings: one of the happiest times of your lives. But at the same time, planning weddings can be complicated and stressful.
One of the main complicating and stressful components of weddings (besides the dress of course!) is finances. Setting a budget, and then making sure that all of the various pieces and components that make up a wedding fall into that budget can be like playing a real-life game of Tetris!
You undoubtedly know that weddings are expensive. Very expensive even. In fact, according to The Knot, the average cost of a wedding in 2018 was $33,931. That's a lot of money!
But, if you know ahead of time that, regardless of who's paying for the various parts of a wedding, you have a high level of planned spend heading your way with the wedding, taking the time to sort through and plan a credit card strategy to maximize all of this spend can pay really pay off in the end.
In fact, done right, you could even use some of the early wedding spend to pay for some of, if not your entire, honeymoon. I know, because I helped my brother and his wife do just this a few years ago!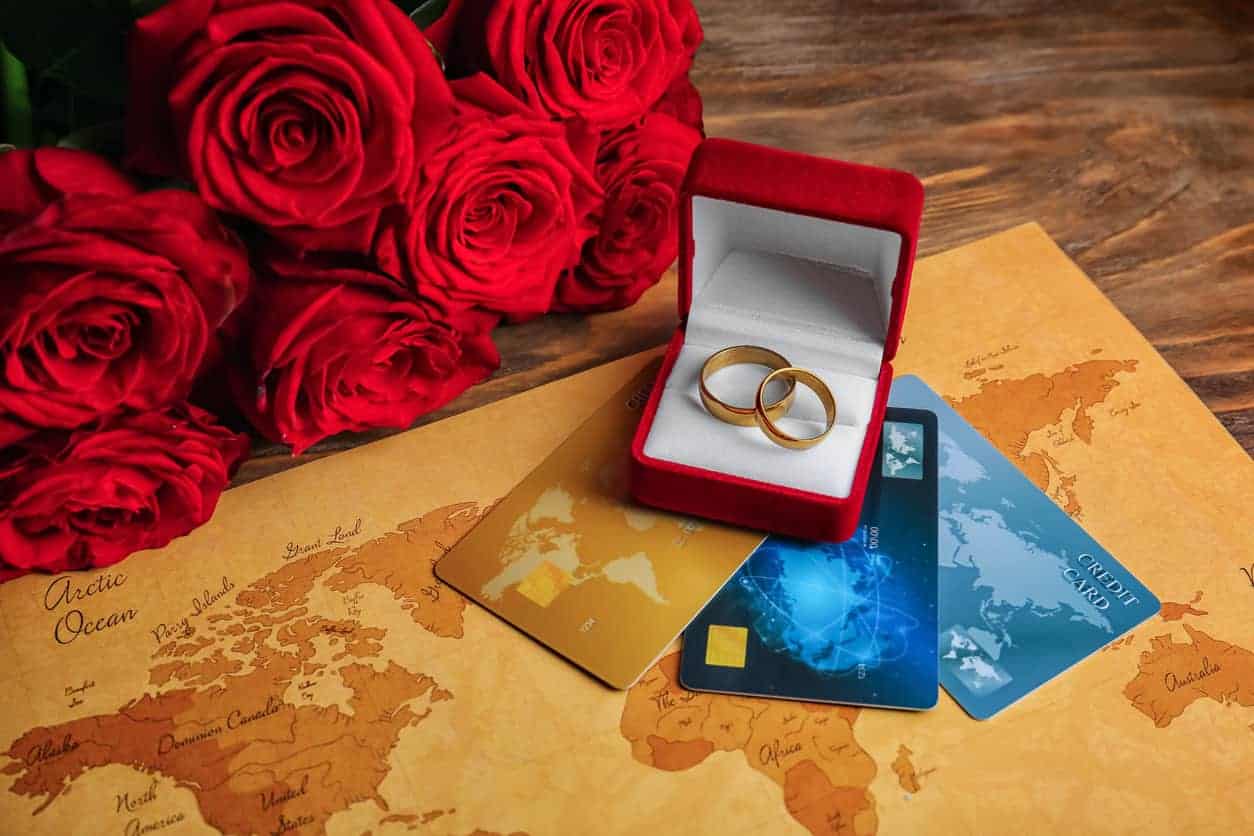 So, you may not have thought about it before, but developing and formulating your credit card strategy for your wedding is just as important as picking your caterer and florist in my eyes! Regardless of whether you're headed down to City Hall and the Justice of the Peace, or your wedding is featured in the next spread of Southern Living as the "Wedding of the Year," you can take advantage of a credit card strategy throughout your entire planning process and reap some serious benefits.
Now, before we get started, it's important to note that the options outlined and addressed here for using credit cards to maximize your wedding spend assumes that you're in a position to pay off your entire balances on-time, so as not to accrue any expensive interest. We certainly don't want you to use credit cards as vehicles to overspend beyond your means for your wedding. Starting off your new lives together in credit card debt is a scenario we want you to avoid entirely.
So with that in mind, let's look at what some of these wedding cost components are in order to help you formulate your own credit card strategy ahead of time to maximize your spend.
The Engagement Ring
Your foray into wedding expenses often starts off with a bang if you choose to purchase an engagement ring. It takes a lot of time and research to understand all of the different options available as well as to determine how much you want to spend on a ring. If you're like me, it could be the biggest single transaction you've ever made at one time at that point in your life.
The Knot reports that the average cost of an engagement ring in 2018 was $5,680, which is certainly a sizable chunk of change. This single transaction alone can meet the minimum spend on most of the cards that are included in our monthly ranking of the best credit cards available.
By planning ahead of time, you can easily knock out the entire minimum spend on a card such as the Chase Sapphire Preferred, Chase Sapphire Reserve, or Chase Ink Business Preferred. And best, you can use the points you earn from the welcome bonus on one of these cards to apply towards your honeymoon.
While we strongly suggest you don't spend outside of your means on an engagement ring (getting married is stressful enough – don't voluntarily add unnecessary debt into the picture as well), if you need a little bit of time to help pay the entire cost of the ring and you're under 5/24, you could look into cards like the Chase Freedom, Chase Freedom Unlimited, the Chase Ink Business Unlimited, or the Chase Ink Business Cash.
These cards offer 0% APR for a specific time interval (15 months on the Chase Freedom and Chase Freedom Unlimited, and 12 months on the Chase Ink Unlimited and Chase Ink Cash) for new purchases as well as balance transfers. This can give you the option to work towards a sign-up bonus, and have a little bit of a grace period to get the balance paid off without any interest. Be sure to fully understand the 0% APR timeframe – you'll be paying off whatever balance you have left at a skyrocketed interest rate somewhere in the 15%-25% range.
Even better, utilize a card that has purchase protection on it. Of course, you should probably have insurance for your engagement ring, but having the backup of purchase protection from your credit card can add an extra level of comfort for those first few years knowing that you have lots of coverage options.
Whatever you do, don't utilize a store credit card as a financing option. Not only would these cards count against your 5/24 count, but to further make it worse, they rarely offer any perks or benefits in terms of a signup bonus other than the 0% interest.
As a point of comparison, the signup bonus on the Chase Ink Business Cash is worth at a minimum of $500, even more if you're able to leverage transfer partners, and offers 12 months of 0% APR. An even further justification against store cards as financing options – they often utilize a deferred interest model, which means that if you miss paying off the entire balance by even a single day, all of the interest that you didn't pay accrues and will retroactively become due at that skyrocketed interest rate.
Ouch!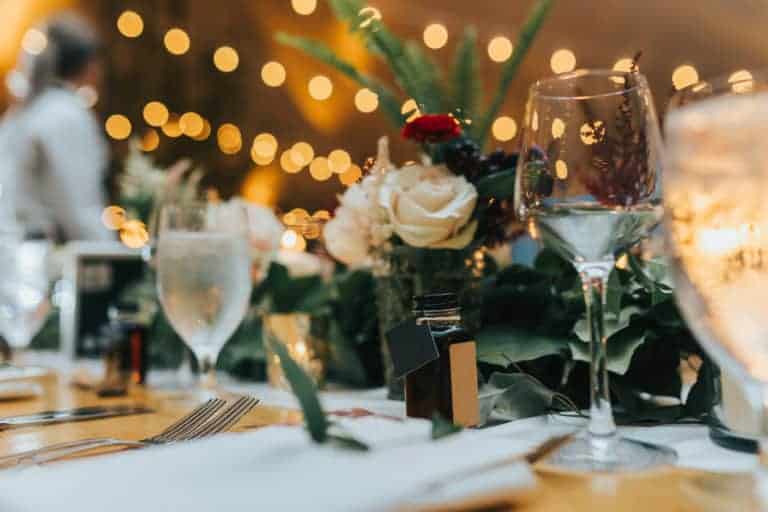 The Wedding Venue
Your strategy for maximizing your credit card earning at a wedding venue is likely to be as unique as the venue itself. Venues can code completely different, from hotels to restaurants and dining, to travel, to nothing at all. Since The Knot reports that the average reception venue cost in 2018 was $15,439, it's worth doing some homework to plan out how to maximize this transaction.
If your wedding venue is at a hotel or restaurant property (like an event space at a restaurant), there's a high probability that it will code into bonus categories such as travel or dining.
If it codes into dining, then cards like the Citi Prestige (5x), American Express Gold Card (4x), Chase Sapphire Reserve (3x) and American Express Green Card (3x) would be good to utilize.
If it codes into travel, cards such as the Chase Sapphire Reserve (3x) and the American Express Green Card (3x) are great options.
Additionally, if you're utilizing a main chain hotel such as Marriott, Hilton or Hyatt, you could further look into some of their brand-specific offerings that offer even more elevated earning rates for spend at their brands.
Some options include the Marriott Bonvoy Boundless Credit Card (6x at Marriott), Marriott Bonvoy Brilliant American Express Card (6x at Marriott), Hilton Honors American Express Aspire Card (14x at Hilton), Hilton Honors American Express Surpass Card (12x at Hilton), World of Hyatt Credit Card (4x at Hyatt).
You'll do even better if you can use this as an opportunity to meet the minimum spend on these cards along with the elevated spending category.
You may find however, that some venues that you would think would code as a bonus category in fact don't code as anything elevated at all and instead just fall into general everyday non-bonused spending. Take a catering company for instance – they're serving you food just like a restaurant would, so it would only seem logical that they would code as a restaurant and dining. Often times, this isn't the case.
Another scenario like this is that if the event is at a hotel, but in a large banquet hall or something. Sometimes, hotels have these setup to process as different business entities, so they process your payments differently than they would if you were booking a room at the hotel. In turn, this means that your transaction could code differently into a non-bonus spend category, limiting your potential for earning bonus from your spend.
One strategy that I would consider, no matter the venue, is to work with the venue that you're having your wedding and/or reception at. They want your business, so it should be no problem to have them run a few test transactions of even $1 or so on some of your existing cards if you want to try and see how they code, and confirm if they code as a bonus category.
Have a friend with a Chase Sapphire Reserve but you don't have one? Does one of your parents have a Marriott Bonvoy Brilliant Amex? See if they'll let you swipe $1 on their cards at the venue to see if it codes as travel, dining, or hotel bonus spend. Sure it's an extra step, but it's completely worth it. There's a big difference in earning 15,000 and 60,000 American Express Membership Rewards Points, so it's worth the effort.
There's no one-size-fits-all approach to this as each scenario truly is going to be different.  Your wedding venue may take care of everything – tables, chairs, linens, catering, and much more, so that you have one transaction at the end. Another venue may truly be just for the rental of the space, and then you separately have to source your own tables, chairs, catering, and more from different vendors.
Regardless, put some time and effort into planning not only what the vendor choices are going to be, but also how you're going to pay for each of them and how you can maximize each transaction. When you're flying first-class to your honeymoon for free on those points and miles, you'll pat yourself on the back for putting in the effort ahead of time.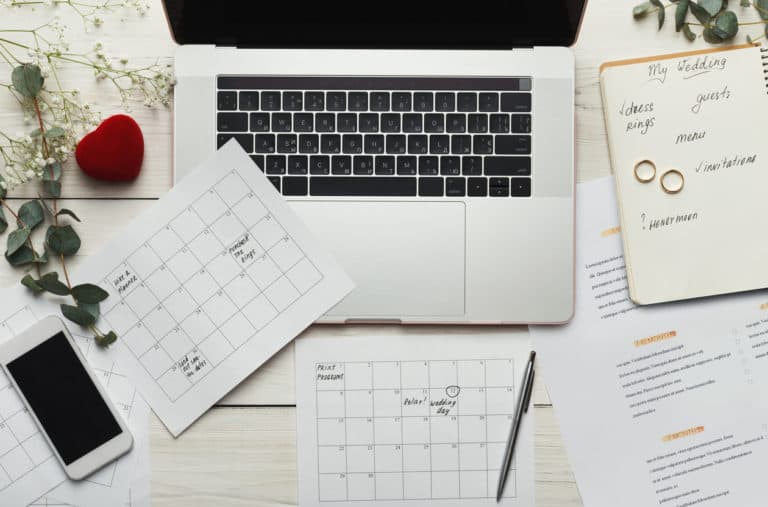 Everything Else
There are so many other components other than the engagement ring and wedding venue that go along with weddings. And unfortunately, most of the time each of these components has a significant average cost to accompany it. Some of the other items and average prices in 2018 from The Knot include:
Average cost of photographer: $2,679
Average cost of wedding/event planner: $2,002
Average cost of reception band: $4,247
Average cost of reception DJ: $1,292
Average cost of florist/décor: $2,411
Average cost of videographer: $2,021
Average cost of wedding dress: $1,631
Average cost of groom attire: $283
Average cost of wedding cake: $528
Average cost of ceremony venue: $2,382
Average cost of ceremony musicians: $797
Average cost of officiant: $286
Average cost of catering: (price per person): $70
Average cost of transportation: $856
Average cost of favors: $245
Average cost of rehearsal dinner: $1,297
Average cost of invitations: $386
Average cost of hairstylist: $123
Average cost of makeup artist: $102
As you can see in the list above, not only do some of the items have a significant cost associated with them, they also present a wonderful opportunity to earn valuable credit card points and miles from each transaction.
After you've celebrated your engagement, get to work not only setting a date, picking your caterer and dress, and any other vendors that you're going to need. As a part of your discussions with these vendors, be sure to understand their payment terms and options and work that into your contracts.
Will they let you pay by credit card? Is there a fee associated with it? These are important questions to ask ahead of time. Don't forget – they want to earn your business, so there can be room to negotiate on many things, including things like credit card fee responsibility.
If your photographer says that they'll charge a 3% fee to pay by credit card, push back and negotiate and see if you can get it lowered or even removed entirely. Credit card payments allow vendors to get paid extremely fast, so some are often willing to eat a small fee if it means they get their money tomorrow versus having to wait a few weeks.
If there are some vendors who just refuse to accept a credit card as payment, then don't worry. You can look to using a service like Plastiq to pay these vendors, while still earning valuable credit card points.
Once you've got all of the above sorted out, and you have a more finalized idea of what your specific costs are going to be, then you can start putting together your plan for credit cards to use for all of these expenses.
Don't forget, you're getting married, so if you don't already live together, you likely will be soon and then can then pool points with some loyalty programs like Chase Ultimate Rewards.
You can also take advantage of referral opportunities to refer your soon-to-be spouse to a card to help meet more signup bonuses to use for some of the various wedding costs. Depending on how you're breaking out cost responsibilities for the wedding, if your parents are responsible for paying for some items and you're responsible for paying for other items, get them in on the action!
You can refer your parents as well so that they can reap some benefits from all of this spend as well. Who knows – maybe they'll even then use some of those points to book some flights or hotel nights for your honeymoon!
Don't Forget Travel Portals
Using credit cards and working towards your signup bonuses on them with the above spend will allow for the maximum rate of return on your wedding spend. But don't forget to double dip and be sure to look into cashback and travel portals for any purchases from a mainstream vendor. Renting suits for your groomsmen from a vendor like Men's Wearhouse or Jos. A. Bank? Perfect – use CashbackMonitor when purchasing the rentals online to earn bonus cash back or miles from various portals. Every bit adds up!
Final Thoughts
By taking the time to formulate a plan for how to maximize the elevated spend that often accompanies weddings, you can not only earn a ton of points and miles to start your new lives together in style, but there's a good chance that you can cover a good chunk of if not your entire honeymoon on points and miles as well.
Now, jetting off to the Maldives for 10 days doesn't seem so out of reach after all for your dream honeymoon thanks to the point and miles you earned paying for your wedding!
New to the world of points and miles? The Chase Sapphire Preferred is the best card to start with. With a bonus of 60,000 points after $4,000 spend in the first 3 months and 2x points on dining and travel, this card truly cannot be beat!
Learn More