In This Article
Loading table of contents …
Note: Some of the offers mentioned below may have changed or are no longer be available. The content on this page is accurate as of the posting date; however, some of our partner offers may have expired. You can view current offers here.
I'll admit it. Some of the stuff we do here at 10xTravel can seem crazy. If you're not familiar with points and miles, you might be surprised by the lengths we'll go to earn some extra points.
From opening credit cards to using shopping portals, the quest to accrue points and miles can incite fanaticism in travel enthusiasts.  So, what happens when points/miles people, like our own Bryce Conway or Luke Sims, fall in love with non-points and miles people?
Well, I spoke with Bryce's wife, Alexandra, and Luke's wife, Libby, to ask them about their experience in getting to know their husbands' hobby.
It turns out that their experiences are very similar, and they helped me understand the hesitation some people might have about jumping into this hobby.
Skeptic Problem #1: I Don't Even Know What Points and Miles Are!
Even if you have read the free e-book for beginners, read every article we've published and have been talking about all the great credit card bonuses that are being offered, your skeptical partner might be hesitant to jump into the hobby because they just don't "get it."
For Alexandra, her knowledge of points and miles was very limited.
"I had zero knowledge prior to Bryce introducing me to the hobby! I went to college out of state, and my first time in an airport alone was coming home for Christmas. That first time changing planes alone felt like such a win! My parents booked all my flights so I'm not sure if points were involved."
Libby was similarly unfamiliar with the game.
"I did not have much knowledge of points and miles before Luke started his obsession. My dad always flew Delta for work, so he had accrued miles through that. However, he didn't really understand their value, so I had no idea the depth and breadth of possibilities."
Now that they have each enjoyed multiple trips both domestically and internationally, I was curious to know if they had expanded their knowledge of points and miles.
Well, despite being married to points and miles gurus, Alexandra and Libby both remain fairly removed from the points and miles hobby.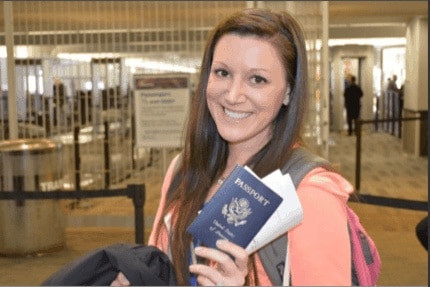 Libby trusts Luke to handle credit card sign-ups, book flights and hotels. She jumps in to help with planning activities, dining and navigating the cities once they arrive.
Alexandra learned most of her points and miles knowledge when she traveled with Bryce to Scotland where he gave a TEDx Talk on award travel.
A skeptical partner doesn't have to become points and miles expert, they just have to be willing to trust YOU!
Skeptic Problem #2: My Credit Score Will Go Down
One of the biggest misconceptions about opening a lot of credit cards is that it will hurt your credit score.
Yes, opening tons of new credit cards, carrying a balance, and not making payments on time will hurt your credit score.
However, by only spending what you can afford to pay off in full, and paying your credit cards on time, most people find their credit score increases as they open more credit cards, and maintain a solid credit history.
Alexandra and Libby each hold 10+ credit cards and have credit scores that are considered "excellent" as calculated by the FICO Score model.
Skeptic Problem #3: I Don't Want Credit Card Debt
Using points and miles to travel for free is ONLY valuable if you don't accrue debt. Late fees and interest charges can instantly wipe out the benefit of any points and miles earned from a credit card.
Using credit cards to replace the cash or debit card you use for regular everyday spending allows you to earn points or miles, without spending extra money. Services such as Plastiq allow a credit card to be used to pay a variety of bills, from your rent/mortgage to your dog walker!
You will also earn valuable points and miles with every new credit card opened if you hit the minimum spend required to earn the sign-up bonus, so opening more cards can have a net positive effect on your financial well-being.
Skeptic Problem #4: Credit Cards Have High Annual Fees
Having to pay a $59, $99 or $450 annual fee can be a deterrent for many people when it comes to opening credit cards.
Fortunately, many valuable credit cards waive the first year's annual fee. Along with the first year fee waiver, credit cards often offer benefits like trip delay insurance or price protection for purchases.
This allows you to try out the credit card for a year to see how it fits your spending patterns and decide if the rewards it offers makes it worth keeping.
Skeptic Problem #5: It Just Doesn't Feel "Right"
No matter how many times the process is explained, a skeptic might remain a skeptic.
For Libby, she had just one conversation about credit card points and miles before Luke took over and started playing the game.
As she says, "He's lucky he just gets to say 'trust me', and I let him do what he thinks is right. I know nothing about points and miles, but I love traveling and so far Luke has done an amazing job getting us places for free."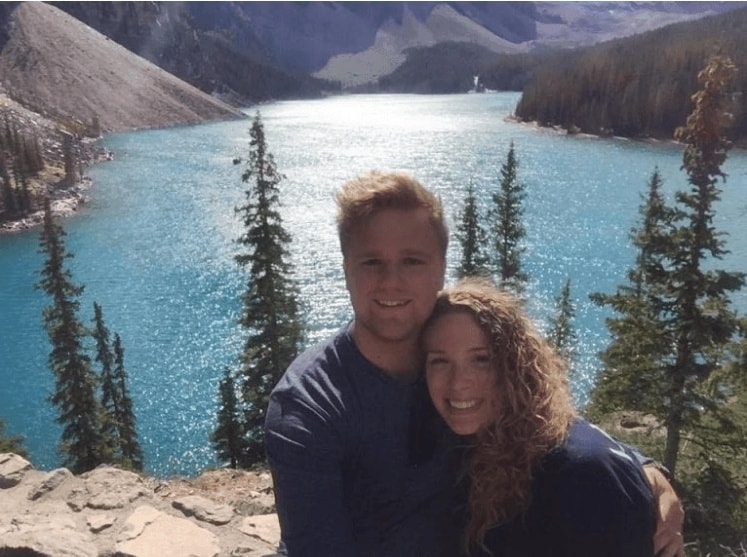 Alexandra has asked to have points and miles explained "frequently, consistently and still sometimes asks questions!"
If you're trying to get a skeptic to play the points and miles game, get used to hearing "I just don't understand how this is going to work!"
Even after you plan your first trip, save thousands of dollars and travel in style, your skeptical partner might STILL be skeptical.
That's okay. They can ask questions and you can just keep opening credit cards to plan the next trip!
Skeptic Problem #6: This Is Going to Get Me In Trouble
In a world where nothing is free, having companies give away points and miles just for signing up for credit cards seems too good to be true.
Alexandra and Libby were both very worried about the "men in black" or the IRS showing up on their doorsteps and arresting them.
Given that they have now been involved in the hobby for years, and neither have them have experienced any jail time, it is safe to say that this fear was unfounded.
Using credit card bonuses to earn points and miles is not against the law. If it was, we wouldn't recommend it!
Skeptic Problem #7: Points and Miles Are Boring
Some people just don't get excited about award charts and airline routing rules. Weird, I know!
The 10xTravel staff (and many of our readers) could have hours of conversations about mileage redemptions and maximizing points-earning on purchases.
However, most people I talk to get a glazed over look when I start squawking about award "sweet spots" and "5th-night free" hotel redemptions.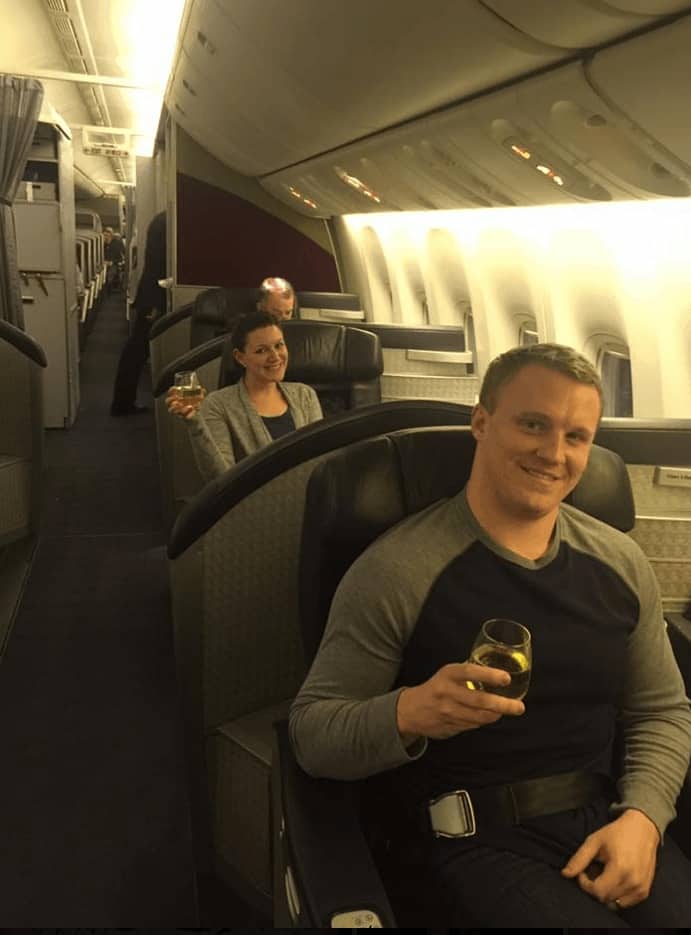 Understand that your skeptical partner might never get into points and miles like you, and that's okay. They will still love all the perks of travel!
Skeptic Problem #8: I Don't Travel That Much
For many people, this hobby doesn't seem worthwhile because they don't travel often.
However, after earning points and miles that make travel (almost) free, weekend jaunts to Mexico or a trip to Ireland seem very reasonable.
Alexandra's first overseas trip was to Paris, for a total cost of $266. She describes it as "completely magical and everything we could have hoped for. All of our trips are special, but this one had a particular sparkle to it."
Since then, she has traveled to Thailand, Hawaii, Amsterdam, out-of-state weddings and multiple trips to visit family in California.
Libby's first points-funded trip was "the most beautiful honeymoon" in the Canadian Rockies. With a healthy stash of points, trips home to visit family or a weekend in Paris are common for Luke and Libby.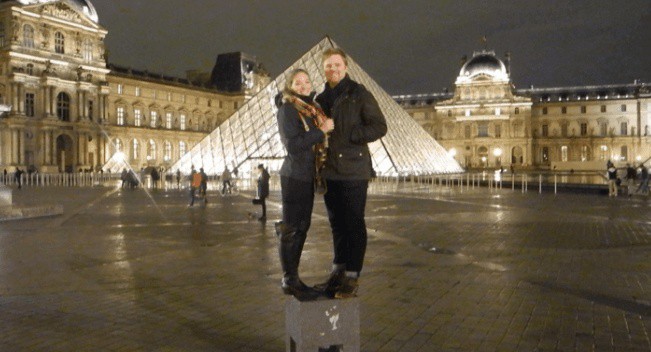 Many people don't travel because they don't have the financial means, However, when presented the opportunity to travel with points and miles for a fraction of the out of pocket cost, most people find that they LOVE to travel.
Final Thoughts
For Alexandra and Libby, their initial skepticism has been quieted by seeing what Bryce and Luke have been able to do with miles.
Libby is currently most looking forward to being able to attend friend's weddings with the flights covered by points and miles.
Her feelings on the hobby are best summed up by her answer to "What has been your best trip moment?"
"I have a 'this is awesome' moment on every trip. Being only 25 and getting the opportunity to experience the world has been truly invaluable."
Bryce and Alexandra are now a family of three, with the addition of their adorable child in December 2016. Alexandra "can't wait to give her the world and show her all the amazing places we have been, thanks to points and miles."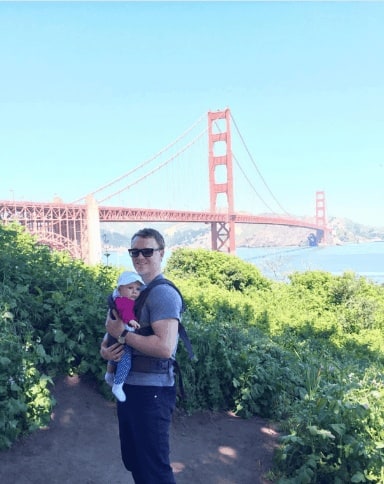 New to the world of points and miles? The Chase Sapphire Preferred® Card is the best card to start with.

With a bonus of 80,000 points after $4,000 spend in the first 3 months, 5x points on travel booked through the Chase Travel Portal and 3x points on restaurants, streaming services, and online groceries (excluding Target, Walmart, and wholesale clubs), this card truly cannot be beat for getting started!
Learn More
Editors Note: Opinions expressed here are author's alone, not those of any bank, credit card issuer, hotel, airline, or other entity. This content has not been reviewed, approved or otherwise endorsed by any of the entities included within the post.